This article is more than 1 year old
Black & Blue: IBM hires Bain to cut costs, up productivity
The result? One-third of GTS to be 'redeployed' or not replaced when they leave
Exclusive IBM has indicated to senior Global Technology Services management that a third of the global workforce will be "productively redeployed" in 2018 with tens of thousands of personnel "impacted".
Insiders told The Reg that Big Blue had hired consultant Bain & Company to help it plot a way forward for GTS, bringing in external business consultants despite spending $3.5bn to buy PWC in 2002.
In an internal document distributed among senior execs, IBM revealed how it would "transform our service delivery model" in the year ahead with "30 per cent of SD&T (service delivery and technology) to be productively redeployed in 2018", suggesting the total global GTS workforce is 103,000.
Included in the slide deck is a graph - seen by us and shown here - detailing the "projected headcount impact of 2018 actions" for 30,900 employees, including 10,900 from the domestic (US market) and 20,000 across the globe in Client Innovation Centres (CIC).
IBM revealed in the chart, which quoted Bain Analysis as the source, that fundamentally some "30.9k people is the total [headcount] Impacted" and that 9.3k of those souls are expected to be redeployed.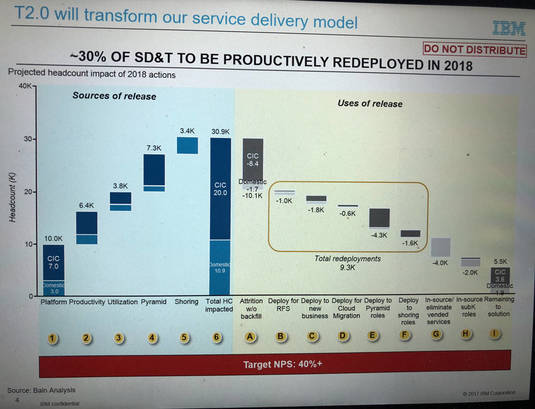 Leaked slide ... Click to enlarge
On the left-hand side are the current positions of the employees, referred to as "sources of release", and on the right-hand side are areas where IBM anticipates them moving to this calendar year, the "uses of release".
Starting with the (a) column on the right-hand side, IBM stated that 10,100 positions - including 1,700 staffers in the US and 8,400 internationally - are to be classified as "Attrition w/o backfill".
The relevant dictionary definition of attrition is "the process of reducing something's strength or effectiveness through sustained attack or pressure". In the case of IBM, it will not replace staff as they leave or their contract position is stopped/ not renewed.
Presumably IBM is basing this figure on previous years' data - the relentless grind of repeated redundancy programmes across GTS has seen morale on the shop floor deteriorate. Perhaps this will contribute to the numbers of heads that simply decide they've had enough and walk on.
Some 9,300 of those GTS positions (b-f on the chart) are to be redeployed to RFS, new business, cloud migration, pyramid roles and shoring roles.
An insider said of these internal redeployments, "You [might] keep a job in IBM [but] not not in your original position, go fill these available roles which might be short/ long term. There is no hard or fast position on these positions but internally they [managers] have to make a convincing business case if they do not want the resource the comes forth".
Some 6,000 of GTS people (g & h) are to be moved to help IBM cut costs as it tries to in-source or eliminate vended services and in-source subK (sub-contractor) roles. The company wants to stop hiring cross-company resource and external services, a contact told us.
The final line related to 5,500 people that will be "remaining to solution". This was interpreted by IBMers as staff for whom the company has no obvious plan.
"[It] is the usual 'No idea what to offer these people, we'll get to them eventually', but the numbers make grim reading as 5k out of 30k may not be redeployed or offered roles that replace external suppliers," an IBMer told us.
"IBM has a weird understanding of people's skills, and how to fill job roles. They wish to redeploy resources by making X roles redundant in the country, then pushing resources to take on new roles that have not been filled - like customer-facing new business engagements," he added.
Another member of staff that spoke under the cloak of anonymity said it was "galling" that IBM has an "army of Bain consultants here working on this.
"They probably cost tens of millions of dollars… perhaps we wouldn't have to RA (redundancy action) so many people if we weren't paying their fees," he added.
Multiple redundancy rounds were launched last year within the services division to cut local costs and export jobs to lower wage locations. El Reg previously exclusively revealed Big Blue wanted to base eight in 10 of its GTS employees on these areas by the end of last year. Staff suspect there will be more of the same this time round.
The new split being pushed forward, multiple sources told us, is a 20/20/60 ratio that effectively means IBM wants 20 per cent of GTS on-shore at a country level, 20 per cent in nearshore locations and 60 per cent offshore.
IBM is secretive about the number of staff it employs in-country, though just shy of one-third of the entire organisation is now understood to be employed in India, circa 122,000 people.
Before the 2018 "transformation programme" even begins, IBM still has to conclude several rounds of UK redundancies in both Technical Support Services and IS Delivery that started last year.
It is now 22 straight quarters since IBM last reported global top line growth and its bottom line has shrunk during that period. IBM generated $92bn in cash in those lean years from 2012 to 2017, but chose to return 80 per cent of it to shareholders instead of using it in other ways.
The GTS division, like many other legacy parts of the organisation, has faced its fair share of pressure because fewer customers are signing up to big ticket outsourcing agreements, something that rival HPE found before it spun off the Enterprise Services arm to DXC.
The Register asked IBM about the proposals in the document and implications for staff. A PR rep told us:
"As IBM has said in the past, we are focused on redeploying and reskilling our workforce globally, and IBM is substantially increasing its investment in professional development and technical training to focus on our strategic initiatives."
IBM reports its results for Q4 of calendar '18 on 19 January, and the company should outline to investors what provisions it has made for the redundancy pot this year, as well as updating on its financials. ®