Funnily enough, small-town broadband cheaper than big cable packages, say Harvard eggheads
Why can't we have this in more places? Oh, right, lobbyists
A study in the US has found that, where they're still allowed, municipally-owned broadband networks are likely to deliver customers a better value than what the cable giants offer.
The research (PDF), conducted by Harvard University's Berkman Klein Center for Internet and Society, found that over a four-year period, homes that were connected to a community-owned broadband network frequently spent less on their service than those connected to a private commercial carrier like Comcast.
The brainiacs behind the study, published this week, said they looked at 27 community-owned muni networks – both cable and DSL that offered at least 25Mbps down and 3Mbps up – in the America, and found that all but four were able to give customers a lower price than their commercial telco competition.
Muni broadband networks were also clearer in their pricing models, meaning subscribers weren't subject to "sticker shock" due to introductory pricing plans or sudden jumps in monthly bills.
"While community-owned [fiber to the home] providers' pricing is generally clear and unchanging, private providers almost always offer initial 'teaser' prices and then raise the monthly price sharply," the researchers wrote. "This price hike in the communities we studied ranged between $10 (20 percent) and $30 (42.8 percent) after 12 months, both imposed by Comcast, but in different communities."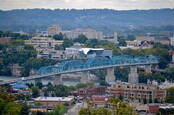 Plucky cable billionaires defeat menace of small-town broadband
READ MORE
The study will provide welcome ammunition to groups who back the expansion of city-run broadband networks into areas underserved by major telco carriers – often rural and poor communities.
Such projects have been touted as economic boons in cities including Chattanooga, Tennessee, but have also been subject to outright bans from state governments that reasoned it is a waste of money for local governments to be competing against private ISPs.
As the study noted, however, the findings don't necessarily support the idea that muni-broadband is going to be cheaper in every corner of the US. The eggheads also cautioned that, because collecting data on internet services in multiple parts of the country is difficult, a more comprehensive follow-up is needed.
"In general we found that making comprehensive pricing comparisons among U.S. Internet service plans is extraordinarily difficult," the researchers wrote.
"The US Federal Communications Commission (FCC) does not disseminate pricing data or track broadband availability by address. Additionally, service offerings follow no standard speed tiers or definitions (such as the specifics of video or phone service bundles)."
Ultimately, however, the team said that particularly for the lowest-tier plans, muni networks seem to be the better option.
"Our findings, though limited in scope, point to the benefits of community fiber networks in providing broadband to Americans at prices that are more affordable," the researchers concluded. ®