Something for the Weekend, Sir? Before I take off my Sonic The Hedgehog socks, I want to be sure there is mutual consent. I don't mind being extradited to Sweden but there's no way I want to spend the next five years conducting my daily ablutions under a cold dripping tap in the faux-marble tiled toilet in the Ecuadorian embassy.
Luckily, I have an app for that. LegalFling (it says here) lets both parties – or indeed multiple parties if I enable Group Fling – determine the boundaries of a bonk session and records the decision as a legal document into a blockchain smart contract.
So, what's allowed and not allowed when we get around to doing the naughties?
Photo & Video? No, that's a really bad idea, trust me. Swipe left.
Use Condom? Yes. Swipe right.
STD Free? Whoah, the lack of a hyphen there is worrying. Are you asking me whether I am free of infection or offering to give me a sexually transmitted disease free of charge? I'd prefer the Non-Chlamydia mode if possible... or is that available only as an in-app purchase?
Explicit Language? That depends. Do I get a choice of which words to permit? Perhaps the app developers could insert a selective checklist of rude words into a maintenance v2 update. Let me get them started with the following suggestions...
f*ck
*rs*
b*tch
st*d
*s *t *n y*t?
m*th*r!
*nt*d*s*st*bl*shm*nt*r**n*sm
Sorted. Next question.
BDSM? No, I'd probably forget the safe word and get my *rs* wh*pp*d. Swipe left.
Oh, that's it. This has apparently generated a legally binding agreement.
And if you believe that, you'd believe anything. Not wanting to make light of a serious matter just as western male attitudes to gender equality are finally and grudgingly forced to shuffle a millimetre away from their neolithic norms, I can't see me er... holding it up in court.
What we have here is an illusion generated by the mind. Despite LegalFling's good will, and my genuine joy in discovering a use for blockchain that does not involve toy money, it doesn't do much more than encourage imminent sexual participants to verbalise (in Explicit Language or otherwise) their intentions.
Indeed, I would contend that the resulting smart contract is just data blah to fool the brain's erratic reasoning into thinking something real has been done. Tap the friendly green tick and everything will be OK, won't it? Your mind is put at rest, the world is at peace, and you give absolutely no thought about where the smart contract has been stored, who else can access it or how secure it is from hack attack.
The only way I can see how you could use this app to protect yourself from unwanted advances of a pot-bellied movie producer is to beat him repeatedly over the head with your smartphone.
But such is the way with our simple minds. Click "I Accept" and your troubles go away. Or in other words, your mouse hand does one thing while your mind wanders off somewhere else. We trick ourselves into thinking that thinking is real.
This gap between reality and perception is the kind of problem that self-driving cars are supposed to address. Autonomous vehicle tech has less to do with laziness and physical disablement than compensating for poor driving skills. For example, drivers assume they have left enough space in front to brake safely when invariably they haven't. They worry about work and forget to check the rearview mirror. A song they like comes on the radio and they subconsciously accelerate and veer towards the edge of their lane.
Minds are easy to distract and fatigue; modern car features such as lane assist and anticipated braking are not.
My favourite driving tech at the moment is Hitachi's Park-By-Memory system, developed with Clarion, which remembers where and how to park in different locations of different sizes and accessibility.
Anything to help me park a car is welcome. It's not that I'm bad at reversing into a street-side parking bay, it's that I'm inconsistent. Often I can pull it off perfectly first time but other times it takes 17 attempts as other motorists creep past to watch before roaring their engines to speed off. First I touch the kerb too soon. Second time, the kerb is still three feet away. At the third attempt, a tree has magically sprung out of the pavement and blocked the passenger door. At the fourth, the car parked behind me tries to pull out as I'm reversing. And so it goes on.
Stuff self-driving, all I need is a self-parking car. A robot valet would do me nicely.
I had hoped this was more likely than complete autonomous vehicles, which of course, despite our simple minds telling us otherwise for the last two years, DO NOT EXIST. Half a dozen buggies whose steering wheels are occasionally nudged by tense and terrified Google technologists with resulting low life expectancy in California do not constitute a real product.
And yet our minds, drifting far away in sci-fantasy land, have convinced us that self-driving cars are a thing that exists on our roads already. Do not trust your mind. It is the deceiver. Our idiot brains will be the death of us all.
You can imagine my delight, then, to learn Nissan unveiled its Brain-to-Vehicle technology at CES in Las Vegas last week.
"B2V will enable vehicles to interpret signals from the driver's brain, redefining how drivers interact with their cars."
This isn't sounding good. It seems Nissan wants to take the impersonal technology of self-driving cars – which, you might remember, don't exist – and replace it with another technology that also arguably doesn't yet exist. Except this time, it plans to put your non-existent autonomous car back under control of your very real and very stupid head.
"By catching signs that the driver's brain is about to initiate a movement – such as turning the steering wheel or pushing the accelerator pedal – driver assist technology begins the action more quickly."
Oh great. Next time some twerp hogging the middle lane at 35mph on a motorway in the middle of the night gets huffy about me slowly and reluctantly passing him on the inside lane, he'll frivolously think about veering into me to "teach me a lesson" and hey presto! His car responds to his thoughts and forces me off the road.
Or my playlist launches into Led Zeppelin's Rock And Roll, only for the car to pick up my brain patterns and autonomously accelerate to 150mph before exploding into a cloud of fire and smoke a mile further on.
"Using signals from their own brain makes the drive even more exciting and enjoyable."
Exciting, yes. Thankfully, Nissan assures us B2V is a showpiece of research and not an actual thing terrorising our actual roads. [Raises eyebrow] Yet.
In the meantime, let's pretend none of this is real and that all of it is real. Allow your simple minds to wander far away. It'll never happen. It has happened already. Swipe left or right, who cares?
Far, far away.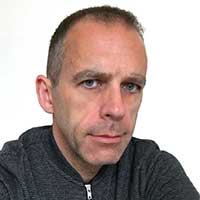 Alistair Dabbs
is a freelance technology tart, juggling tech journalism, training and digital publishing. Talking of cars, he spent a fortune on buying a second-hand Rolls-Royce but couldn't afford to hire anyone to drive it for him. Just think: all that money on a car and nothing to chauffeur it.
© Dad Jokes 2018