Brace yourselves for the 'terabyte (sic) of death', warns US army IT boss
Sorry, make that, exiting IT boss
---
The outgoing head of the Defense Information Systems Agency, which handles computer security for the US Department of Defense, has warned a massive cyber-attack is "looming" at the American military's door.
Over lunch on Thursday, Army Lieutenant General Alan Lynn, who retires in a few months, told the Armed Forces Communications and Electronics Association's Washington chapter that a few years ago, just one or two "gigabytes" – we're assuming he meant gigabits or gigabytes per second – of junk network traffic would be thrown at the military's internet gateways by miscreants, but those days are long gone. Now the tsunamis of duff packets to overwhelm servers are a lot bigger.
"The level of attacks that we've seen actually was really truly surprising, and it still continues to surprise me just how robust the attacks have become," he said.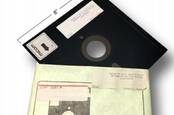 US nuke arsenal runs on 1970s IBM 'puter waving 8-inch floppies
READ MORE
"Now, we get 600-gig attacks on the internet access points and unique, different ways of attacking that we hadn't thought of before. There's now, we would call it the 'terabyte of death' – there is a terabyte of death that is looming outside the door. We're prepared for it, so we know it's coming."
By terabyte, we're pretty sure he meant a terabit-a-second, or possibly a terabyte-a-second. Which is a lot. French web hosting biz OVH was dinged by a 990Gbps denial-of-service attack in 2016, an assault described as the largest ever reported of its kind.
With 3.2 million Dept of Defense staff to manage, Lynn said he faced huge challenges on a day-to-day basis. It was tough finding technology products to handle the volume of network traffic and meet computer security requirements. Military IT admins largely took off-the-shelf commercial kit, toughened it up, and deployed it.
New military equipment was also a challenge for The Green Machine's ranks of BOFHs. He gave the example of the F-35, which he called the "flying mega-computer," that requires secure data stream to send information and receive commands from ground controllers and defense systems. Lynn also said his agency had developed systems that allowed fighters on the ground to watch live video streams from drones on mobile phones.
"It's pretty cool to watch," he enthused, although reminded the attendees to stay focused on the military's prime objective: killing. "At the end of the day, it's about lethality," he said.
We're trying to get the Department of Defense to clarify what Lynn meant when he said "terabyte" and "600-gig." We will let you know if there's any movement on that. ®