Users clutch refilled Box boxen after 'empty' folder panic
Customers couldn't see sync 'n' share files
Business user file sync and sharer Box "sank" for some users late last week, who took to forums and social media complaining they could not see any of their files.
One Reg reading Box user told us he'd "lost" four years' worth of files, saying: "They have no phone support... the long and short of it is that files that have been uploaded to the Box service have just vanished without a trace.
"I'm up the creek now, I can't do my job and I've lost a lot of things."
This morning he told us: "My files are now back and safe and I have made a physical backup of them, and I am now moving to another storage location.
"...[T]heir UK phone line tells anyone calling for support to just file a support ticket online."
He took issue with the vendor's "slow response" and lack of "blog posts, apologies or Twitter messages".
Notes about the issue started appearing on the Box Community forum on Thursday and Friday last week, and it appeared to affect both Mac and PC users.
User oj1480 said he'd opened a support ticket on Thursday evening. They posted a note saying:
My work PC Box folder has all the files. However, new files cannot be synced. My home PC Box folder still has zero files. Box.com shows all my folders with # of files. However, no files can be seen inside the folders.
The user's investigations revealed:
If I edit any existing file, none will be synced,
If I edit an existing file and save as another name, it will be synced,
If I create/copy a new file into box, it will be synced.
Although no technical insight into the issue was provided, Box community manager "Brent" posted a response on Friday assuring users Box support was working on the issue and that no files had actually been lost: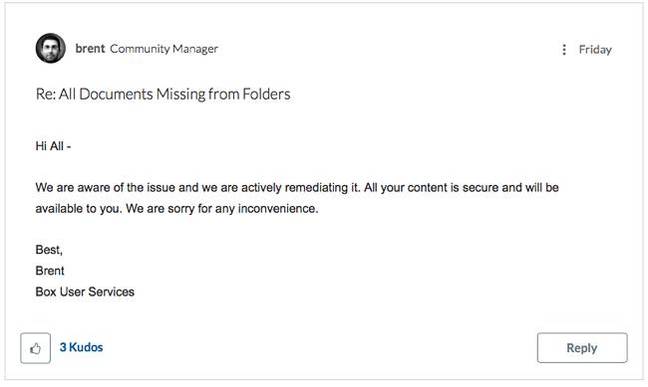 The lost documents started re-appearing in affected users' folders later on Friday and over the weekend.
We've asked Box for a comment and will update when we hear back. ®