This article is more than 1 year old
IBM kills Global Technology and Global Business Services: It's all 'IBM Services' now
Because you need to 'capitalize on exponential intelligence fueled by pervasive tech' and only IBM can do that
Exclusive IBM has plans to help its ailing services business with a re-branding exercise that will see its Global Technology Services (GTS) and Global Business Services (GBS) operations emerge as a single entity named "IBM Services."
Internal communications about the change seen by The Register said it was made because "in the era of the cognitive enterprise, when business and technology architectures are merging, our clients understand their success depends largely on how well they capitalize on exponential intelligence fueled by pervasive technologies."
"More than ever," the message to remaining IBM services staff read, "clients need a trusted partner who can provide strategy, business and technology consulting and innovation as well as matchless execution."
IBM reckons it is that partner because it is "uniquely positioned to meet this converged need with the differentiated, integrated capabilities of GBS and GTS" but can't make it with both as discrete entities. Arise, therefore, "IBM Services" to "increase client awareness of the powerful talent that GBS and GTS bring to our engagements."
IBMers might be just-about-omniscient
Big Blue reckons the change will "increase awareness of the powerful talent that GBS and GTS bring to our engagements." The new moniker also "puts a name to what we as IBMers have always known: that GBS and GTS practitioners are business and technology experts and strategists who partner with our clients and apply technology to help them stay competitive, lead within their own industries, expand their footprints into adjacent areas or shift in entirely new directions."
The letter later said that IBM "has the most skilled, innovative, results-driven IT and business consulting professionals in the world."
IBM customers like the Australian Bureau of Statistics, which received a refund from IBM for botching an online census with naïve security advice, may not agree. Nor may marketing giant WPP, which has a colossal outsourcing deal with IBM but still succumbed to the NotPetya malware and experienced weeks of disruption as a result.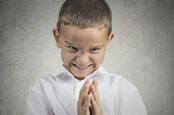 Black & Blue: IBM hires Bain to cut costs, up productivity
READ MORE
IBM nonetheless told its people that "the most telling manifestation of IBM Services is how each of us show up, every day, bringing our professional expertise to clients."
"In the services marketplace, the people are the brand," the missive continues. But of course IBM has many fewer people these days. The company also expects that plenty of the remaining people will only show up over a wire, as we reported last week when revealing plans to lose another 10,000 services staff and re-deploy many more to low-wage countries.
Those plans appear to have been hatched by Bain & Company, as IBM engaged the consultancy for a dose of the business services the letter we've seen claims IBM is very good at doing all by itself.
The letter also makes no mention of an actual re-org to accompany the re-brand. It does foreshadow lots of advertising and marketing activity, plus documents to help staff make a "elevator pitch" about the newly-named entity.
If an IBMer pitches you "exponential intelligence fueled by pervasive technologies" in an elevator, please ask them what that means and also what the re-brand says about the era of big outsourcing deals, seeing as IBM has decided it no longer has a brand dedicated to such engagements. Feel free to let us know how that conversation goes. ®