Supermicro crams 36 Samsung 'ruler' SSDs into dense superserver
Watch out Intel, there's a new mini-ruler in town
Analysis Supermicro has a supernaturally dense thin server with up to half a petabyte of flash using unannounced Samsung SSDs.
The SSG-1029P-NMR36L is your average unremarkable 1U rackmount job in the company's SuperServer range, except that it has up to 36 front-load, hot-swap, NVMe Samsung PM983 SSDs.
It is a dual-socket server with two Xeon SP CPUs, and 24 DIMM slots (3TB) as well as redundant hot-swap cooling fans and power supplies, and remote system on/off and system management and remote power cycling for each drive.
There are actually 32 hot-swap drive bays and 4 hybrid PCI-E or SATA3 M.2 drive bays.
They use what Samsung calls a next generation small form factor (NGSFF) SSD, and currently offer up to 288TB of raw capacity, with 576TB coming later this year. That's denser than you could get by using 2.5-inch or 3.5-inch SSDs in this 1U, 2-socket Xeon SP enclosure.
The 288TB capacity product uses 8TB drives now with 16TB ones coming later in 2018. Our understanding is that the 4 and 8TB PM983s use 64-layer V-NAND (3D NAND) while the 16TB one will use forthcoming 96-layer V-NAND.
They support PCIe 3.0 x4 lanes and are available in 4TB and 8TB capacities. They measure 30.5mm wide, 110mm long and are 4.38mm high.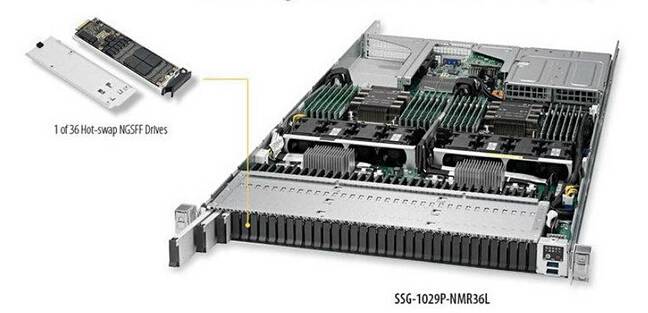 The picture shows that longer drives would impinge on the space available for the server's motherboard, limiting memory real estate space for example.
Supermicro president and CEO Charles Liang said this server offers "the best performance and density in the market."
Samsung drive-level key-value store
Samsung has implemented a PM983 with a key-value store interface in its firmware (KV SSD) for handling unstructured object data. It says this provides a simpler interface for such data than having to bridge between the object data world and the usual block-structured SSD protocol layer.
It claims this "increases performance, and simplifies storage management, while providing the means for nearly unlimited system scaling," with applications such as RocksDB or MySQL.
It has built a KV Stacks bundle as a combination of the KV SSD and the corresponding host software such as device drivers and associated libraries.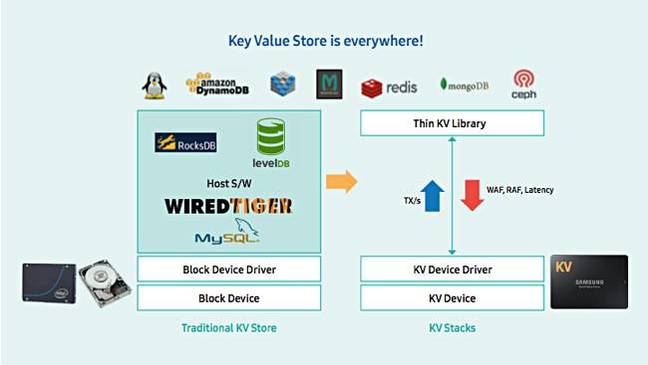 Samsung KV Stacks concept
This idea, a key-value interface drive, references Seagate's Kinetic disk drive and the work of OpenIO, which has thought about key-value flash drives itself.
There is a Samsung Key Value (KV) SSD technology brief here.
+Comment
The PM983 SSDs look like a shorter version of Intel's ruler form factor, which Chipzilla says would enable 1PB of raw flash in a 1U server, using 32 slots.
The Intel ruler is 325.35mm long, 9.5mm wide and 3.86mm high.
A full row of 32 of these across the front of the server would push all the other components back, meaning you would lose a CPU socket or DIMM slots to accommodate them.
Samsung's mini-ruler is a third the length of Intel's and the Supermicro support could be a big win for the form factor, encouraging other OEMs, such as Dell and HPE, to use it as well, so gaining a similar mix of flash and DRAM capacity, and CPU power.
Supermicro suggests its SSG-1029P-NMR36L server could be used for IOPS-intensive storage applications, MySQL and Cassandra-type databases, hyperconverged infrastructure nodes and other scale-out architecture applications.
That overlaps the Samsung KV Stacks idea but Supermicro is not limiting it to that, saying: "The SSG-1029P-NMR36 server system has the compute power to deliver time-to-value benefit to any application."
That suggests there are two versions of the PM983: a KV SSD and a normal block protocol one.
This server was shown to customers in private viewings at CES in Las Vegas last week. You can check out a brochure here (PDF).
It should be deliverable, and priced, later this year. We can also expect a Samsung announcement about the PM983 SSD around the same time. ®