DXC Technologies' employees still reluctant to upload their "skill profile" onto a company database they fear will be used in the next big redundancy rounds yesterday got a ticking off from top brass.
The great unwashed at DXC were given a fortnight until 17 November to complete the online forms to create a "holistic and robust skills profile" that lets the firm slot the right people in the right areas.
Cynical staff were anxious the new management system would be used by senior execs to quickly identify heads to be chopped when they arrived at the next phase of cost-cutting, and so ignored the request.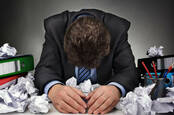 DXC Tech asks staff to profile their skills
READ MORE
But the workforce was never going to escape so easily, and an email titled "Important Reminder: SABA Cloud Employee Skills Profile Update and Resume Upload" was dispatched yesterday, co-signed by global veep Joe Doherty and senior veep Sreekanth Arimanithaya.
"As an important and time-sensitive reminder we are requesting your personal attention in completing you SABA Cloud Skills Profile and making this a top priority. The deadlines previously provided for completing this activity have passed and we are still not seeing adequate progress.
"It is now crucial that you complete this task as we have begun to implement a formal Redeployment Program in Q4. SABA is the key tool that will be utilised as a capture and evaluate employee's professional characteristics for this program."
The pair reminded workers that DXC's "growth strategy" was linked to digital transformation and "for that reason, our labor strategy is focused on our workforce as we develop our skills for the future". Well, quite.
And it will seek you out, it warned: "Therefore, it is imperative to have all our employees update and keep their professional information current within SABA so you can be sought out for required skills, location and level matching for new growth opportunities," the email sent to staff – at least in the US and UK – stated.
DXC said that constructing a "robust and compliant skills profile" will allow its recruiters and hiring managers to "look first for redeployment opportunities" within "existing staff base".
"It is critical that you complete your skills profile on or before Friday, Jan 26, 2018," the missive added.
Company insiders were not surprised colleagues had refused to partake in the initiative – multiple rounds of redundancies at DXC has knocked morale on the shop floor and led to a climate of fear.
"As suspected, the skills profile is linked [in people's minds] with the job cuts," one told us. ®