Frenchman comes eye to eye with horror toilet python
'I could very well have been bitten in a sensitive place, if you know what I mean'
A lucky Frenchman has narrowly avoided having his todger bitten by a python that crawled up his U-bend.
The unnamed Grenoble resident, who lives in a second-floor flat in the centre of the southeastern French city, discovered the errant snake last Saturday night while preparing to unleash his own snake upon the innocent porcelain in his smallest room.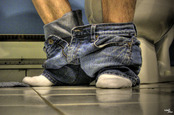 Viglen staff rush to use CEO's loo after exec leaves
READ MORE
"I opened the door of my restroom, and immediately I saw a snake's head coming out of the bowl. It was scary. I got the fright of my life. I jumped. Fortunately, I am not cardiac," the 53-year-old told Le Parisien newspaper (en Francais).
"And I could very well have been bitten in a sensitive place, if you know what I mean."
In disbelief he closed the door then reopened it, to be confronted once again with the "1.5-2 metre-long snake" rising from the khazi.
In lieu of anything else to do, he called the fire brigade. They sent a specialist unit which captured the python and took it to a vet, where it later died.
It turned out that a woman living on the 4th floor of the same block of flats had lost a python a few weeks previously – and the almost-victim commented that the water in his toilets was "hard to drain". Suspecting that the snake's demise was down to descaling products that the almost-victim had been pouring down the bog to unblock it, Le Parisien tracked down the woman and showed her a picture of the toilet snake.
"She did not formally recognise her animal," the paper sceptically reported, quoting another inhabitant of the block: "Not everyone has a python at home." ®