ServiceNow unleashes its 'Kingston' release
Company's journey from the heart of IT to the rest of the business continues
ServiceNow has slipped into 2018 by slipping out a new release of its platform.
"Kingston" debuted late last week. Unlike other software-as-a-service players, ServiceNow offers dedicated instances and lets its customers choose when to start using an upgrade rather than suddenly springing new functionality on all its users. Kingston is therefore an option for customers.
But it looks a very decent option, as new features for ServiceNow's core IT users include:
Automated responses to phishing attacks that let IT departments respond to reports of attacks with tools like auto-detection-and-deletion of similar emails in a mail server;
Major incident management tools to handle big problems (perhaps like having to patch all your x86 CPUs and hypervisors);
Machine learning in the service of case handling, to make sure that jobs make it onto the right person's desk at speed, an important feature because it uses technology acquired from DxContinuum in January 2017;
Software asset management for IBM and VMware products;
Detection of software forbidden by corporate blacklists.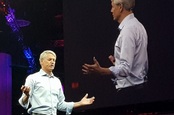 ServiceNow's new CEO thinks IT can spare us from corporate re-orgs
READ MORE
ServiceNow's challenge and ambition, however, is growing beyond the IT department into HR, marketing, compliance and other teams that can also benefit from its workflow-and-automation-driven approach to everything. Such users have also been thrown plenty of bones with additions like Sarbanes-Oxley reporting and compliance tools, email tools to let HR drive internal comms, and gamified customer forums that offer members points and badges.
Non-techies who want to drive ServiceNow have been given code-free tools they can use to create and implement workflows. Customer service types who want to jump on the chatbot bandwagon now have proof-of-concept integration with IBM's Watson chat services to play with.
ServiceNow's provided a complete list of new features here.
The company has more changes up its sleeve, as it is yet to fully digest DxContinuum, so has more AI in the works.
ServiceNow's next release, code-named London, is due late in 2018. ®