This article is more than 1 year old
Xiaomi the money: China's latest IPO star tastes of bubble tea
Geddit?
Analysis Xiaomi's rush to go public is as much a sign of a speculative bubble as Bitcoin mania. Will it have a happy ending?
Somebody seems to be in a hurry. Xiaomi is only just making a comeback from a crash last year. But for the few years prior to that, though, Xiaomi enjoyed astonishingly unctuous coverage.
"Is Xiaomi the next Apple?" asked CNET on December 7, 2012, on the same day that Business Insider wrote a profile of "China's Steve Jobs".
"Founder Lei Jun dresses like the late Steve Jobs, in jeans and black top," swooned BI.
He also liked to end product announcements with a slide – "one more thing". And in case you were in any doubt, Mr Lei was happy to give you a nudge in the right direction.
"China's media say I am China's Steve Jobs," he told Reuters, also on that same December day in 2012. The problem was, the formula was anything but Apple-esque, though.
Even after hiring Google's Android boss, Hugo Barra, the phones themselves were "Shenzhen generics": top-end parts, yes, and a decent case, both of which are easy to source. But you don't have to be anybody special to fling this stuff out the door and sell a lot in the Chinese market. They were brazenly derivative. Mr Lei admitted the phones were sold at close to cost (Xiaomi kept costs down by avoiding bricks and mortar retail distribution).
Xiaomi drew the Apple comparisons not because it had any unique design or technology assets, but because it was diversifying. It made TVs and a $15 fitness band. Then an air purifier.
"We are an internet and a software company much more than... a hardware company," Lei insisted. Like Kaa hypnotising Mowgli, it worked a treat.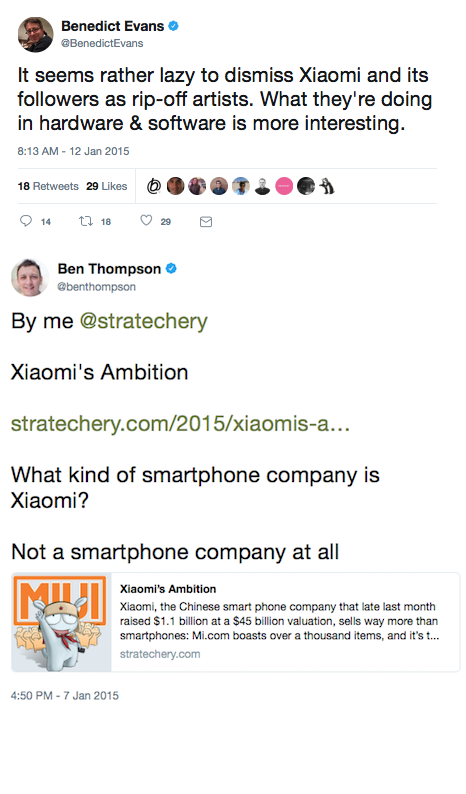 'Gurus'
"You could argue that Xiaomi is actually the first 'Internet of Things' company: unlike Google (Nest), Apple (HomeKit), or even Samsung (SmartThings), all of whom are offering some sort of open SDK to tie everything together (a necessity given that most of their customers already have appliances that won't be replaced anytime soon) Xiaomi is integrating everything itself and selling everything one needs on Mi.com to a fan base primed to outfit their homes for the very first time," pondered Ben Thompson of Stratechery in 2015.
"The company is like Apple after all," he concluded.
Wow. Of course.
However, by 2016, 94 per cent of Xiaomi's revenue was still from phones, which were now not much different from anyone else's, the company having devoted its time to hypnotising social media gurus, rather than inventing unique or interesting stuff. By spring a shakedown was coming.
Mr Lei hit the road to say Xiaomi was now focusing on a narrow range of products– not a Samsung at all, then – and even announced that he did not want to be compared to Steve Jobs any more.
"To use him as a point of comparison for myself is completely inappropriate," he told Wired in early 2016.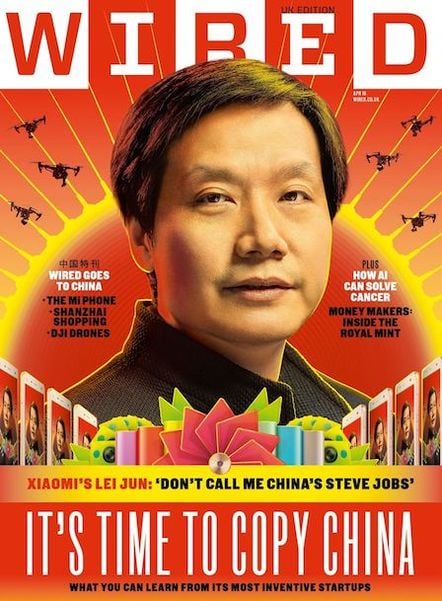 The crash, later that year, was painful.
Just three years after being touted as next Apple - and nine months after being touted as next Samsung – Xiaomi saw a 38 per cent decline in phone shipments.
Phone shipments That's 38 per cent year-on-year – in a market that grew over 11 per cent. BKK's Oppo and Vivo brands made hay, 124 per cent and 74 per cent in the year. It's almost like it didn't matter that Oppo and Vivo weren't "IoT companies".
Since then, BKK now sells more smartphones in India than Samsung. You could say Samsung is the new Samsung.
The way back...
There's one big obstacle to a successful comeback. Never mind trying to be the next Samsung, Xiaomi needs to prove it's the next Xiaomi. Fearful of IP issues (not surprisingly given how much is borrowed from others), Xiaomi has stayed out of Europe and the USA.
Last year, it tied up lots of IP deals, although not with Apple.
All the while Huawei tiptoed into Europe carefully and expensively, with a well-thought-out plan, patience, and increasingly distinctive products (the money-back guarantee on Huawei-brand phones is something a newcomer needs to do to win trust). I haven't seen anything yet that remotely suggests Xiaomi can replicate Huawei's success here. And that value proposition isn't new any more.
Google has given Xiaomi a hope via its revamped Android One program in September last year, designed to make midrange phones more respectable – and also ensure they all look alike. HTC has one too. But remember the point of One is to make the phone maker's brand less important in the long run.
Apart from Xiaomi itself, and greedy bankers – eager for one more payday – it's hard to see who expects anything at all from an Xiaomi IPO. ®