This article is more than 1 year old
Going soft: Kaminario exits the hardware business
Software-centric business model to reach disruptive industry price point
Kaminario has announced it will leave the hardware business, and said Tech Data will build the certified appliance hardware needed to run its software.
Tech Data will provide the K2 and K2.N hardware, with Kaminario providing the Vision OS, Clarity analytics software (getting machine learning and AI), and Flex automation and orchestration software.
The K2 array is a composable infrastructure platform, with users able to set up virtual arrays using its resources. Tech Data will be able to build it more efficiently and at lower cost than Kaminario because of its superior manufacturing capabilities and buying power.
Kaminario, working with Tech Data and its own 200+ set of channel partners can, it says, provide its customers with fully integrated hardware-software all-flash storage appliances at a disruptive industry price point. In fact it claims customers will get the software-defined economics and flexible consumption typically seen only by hyperscale cloud providers.
The latest generation of the K2 all-flash array is now available to all resellers through Tech Data and includes the VisionOS and the Clarity support, analytics and management platform. The K2.N and Flex, when generally available, will also be offered through Tech Data.
Kaminario will continue to provide centralised support management for all data centre implementations based on Kaminario software.
It will strengthen its marketing focus on the service provider market, in which it sees telco, hosting and colo, managed service providers, technical resellers and IT outsourcers operating.
Q & A
We asked Kaminario's founder and CEO, Dani Golan, some questions about the switch to software.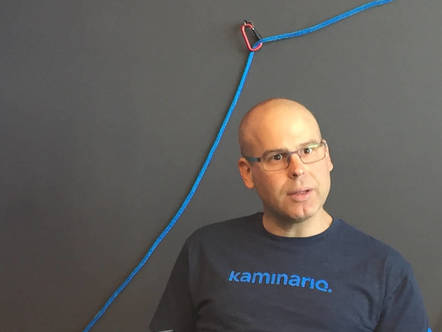 Kaminario's Dani Golan
El Reg: Why is Kaminario is getting out of the hardware business?
Dani Golan: There are several reasons why this shift toward software business models makes so much strategic sense for Kaminario. We simplify our operations and remove the inventory holding costs from our operational model. We can now more easily collaborate with our supply-chain partners and continue to lower our cost of customer acquisition. You can see the differences in this model reflected in public market valuations of software companies vs. traditional storage array companies.
El Reg: What do you mean by a disruptive industry price point?
Dani Golan: Pricing depends on a wide range of factors that go into an implementation, i.e. performance v. capacity configurations; size of implementation; growth commitments, etc. However, we will continue to position Kaminario as the price-performance leader and beat any other array vendor from a cost-efficiency standpoint.
This partnership and shift in operational model makes us even more efficient. We are seeing price points dip below $0.50/GB at scale and anticipate continued erosion – particularly as savings associated with falling NAND prices are passed directly on to customers.
With regards to comparisons to hyper-scale cloud pricing, we will be releasing some data that directly compares our Cloud Fabric pricing to that of Amazon EBS.
El Reg: Will the change to software-centricity lower Kaminario's internal costs?
Dani Golan: Absolutely. Tech Data brings operational capabilities that Kaminario cannot replicate including; buying power, logistics reach, operational efficiency, and cost of capital. They are also in a position to help expand go-to-market reach with extensive relationships with technology resellers and cloud service providers.
These efficiencies will be extremely important as Kaminario continues to grow while improving profitability. This shift toward a software business model is fundamental to reaching our goal of becoming cash-flow positive in 2018.
El Reg: Will Kaminario be slimming down its staffing as it no longer has to design and manufacture its own array appliance hardware?
Dani Golan: As you know, we do not publicly comment on specific organisational changes. But given we are shifting our business model to meet market and customer demands, we will be aligning resources and investments to support our core competencies, drive profitable growth and increase operational efficiency.
+RegComment
Kaminario aims to become cash flow-positive this year and, we'd guess, move into profitability in 2019. This move to software centricity parallels that of Nutanix.
We might imagine that, were Kaminario to envisage an IPO, then it and its bankers might both feel investors will give it a higher value as a software company. This is a bold move and confirms the primacy of software in storage. ®