This article is more than 1 year old
Crypto-cash exchange BitConnect pulls plug amid Bitcoin bloodbath
BTC plunge, er, sorry, market correction leaves faithful shaken but not deterred
Amid a cryptocurrency price correction that has seen the price of Bitcoin drop by half from its mid-December peak, UK-based cyber-cash lending and exchange biz BitConnect said it is shutting down.
The firm, dogged by accusations that it is a Ponzi scheme, cited bad press, regulatory orders, and cyber attacks for its market exit this week.
BitConnect said it has received two cease-and-desist letters from US financial watchdogs: one from the Texas State Securities Board, and one from the Securities Division of North Carolina's Secretary of State.
The letter from Texas authorities, an emergency cease-and-desist order sent January 3, 2018, charges the company with fraud and misleading investors.
The letter from North Carolina authorities observes that BitConnect's purported rate of return amounts to about 3,000 per cent annually.
Noting that such rates "are extremely unusual in financial markets," the North Carolina letter stated: "Guaranteed annual compounded investment returns of over 3,000 per cent are a known 'red-flag' for fraud, specifically for the risk that the investment may be a 'Ponzi scheme.'"
Legitimacy
Back in November, UK authorities issued a letter directing the upstart to prove its legitimacy or face dissolution.
BitConnect promised patrons the ability to earn interest on Bitcoins by lending them. It also attempted to entice new customers by loaning them alt-coins of its own, BitConnect Coin (BCC), and offering more of the same if they could get others to sign up.
Through its website, the company insisted it will continue supporting its BCC currency and touts its new exchange platform, Bitconnect X, and accompanying currency (BCCX).
"This is not the end of this community, but we are closing some of the services on the website platform and we will continue offering other cryptocurrency services in the future," the biz declared.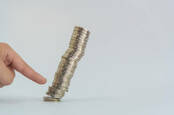 Cryptocurrencies to end in tears, says investor wizard Warren Buffet
READ MORE
BitConnect is supposedly owned by someone named Ken Fitzsimmons, but scant online information makes this difficult to verify.
BitConnect's woes echo a broader cryptocurrency crisis that appears to have been precipitated by an uptick in regulatory intervention.
Last month, the South Korean Financial Services Commission announced that in January cryptocurrency exchanges could only issue new accounts using people's real names. China is reportedly considering further restrictions on cryptocurrency. And Russian President Vladimir Putin has suggested regulation of cryptocurrency may be necessary, according to Tass.
In the US, the Securities and Exchange Commission has shown signs of life too, with its recent decision to halt the Munchee ICO.
Government attention of this sort hasn't helped the market for fanciful digital tokens of intermittent redeemability. The prices for Bitcoin, Ethereum, and Ripple, the three most popular cryptocurrencies, were all down considerably on Wednesday.
Bitcoin dropped below $10,000 for the first time since November when it was about $20,000 apiece, before recovering somewhat. Ethereum hit about $820 before bouncing back above $1,000, though still off its $1,422 high. Ripple, at about $3.65 on January 4, was down to around $1.30 this week.
Faced with such volatility, true believers appear to be undaunted. In an open letter on Wednesday, Joerg von Minckwitz, CEO of blockchain payment service Bitwala, urged Bitcoin fans to "HODL on!" – a typo for "hold" that has become part of the vernacular among cryptocurrency fans.
Minckwitz's exhortation, it should be noted, is followed by the obligatory disclaimer that such sentiment "should not be considered professional financial investment advice."
Meanwhile, on community site Reddit, BitConnect forum posts advertise suicide-prevention hotlines, perhaps in sympathy or perhaps in jest. ®