Google has confirmed plans to issue a patch for Chromecast and Google Home aimed at resolving a traffic flooding problem that was swamping home networks.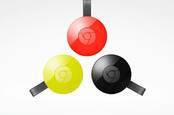 OK, Google: Why does Chromecast clobber Wi-Fi connections?
READ MORE
The fix – due later today – follows a series of work-around updates from router manufacturers aimed at containing the problem, which flared up earlier this week. "In certain situations, a bug in the Cast software on Android phones may incorrectly send a large amount of network traffic which can slow down or temporarily impact Wi-Fi networks," Google admitted in a customer advisory.
The issue stems from a bug in Android software used in conjunction with the affected kit. Google plans to deal with the issue via a Google Play services update this Thursday, January 18.
Cast sends multicast DNS (MDNS) packets as a keep-alive for net connections to products like Google Home and Chromecast. But programming errors meant the feature wasn't turned off when devices were sleeping. Once devices awake from this sleep mode, they end up sending a large volume of data in a short amount of time, flooding wireless connections with junk traffic.
MDNS uses UDP, a technology that lacks congestion control. That's bad enough by itself, but the longer a device "slept", the bigger the data burst it sent once it woke up, a factor that compounded the problem, as previously reported. ®
Similar topics
Broader topics