YouTube's changed its rules to exclude low-traffic channels from its Partner Program, the scheme that sees it share ad revenue with video-makers.
The streaming site justified the change by citing "several issues affecting our community" including "spammers, impersonators, and other bad actors". Some of that content includes stuff that looks like it is for kids, but are dark and confronting, hate speech galore and fake news.
There's also lots of just plain weirdness out there. For example, The Register has found users who apply a text-to-speech engine to some of our stories and puts the resulting audio files on YouTube, accompanied by a pretty picture.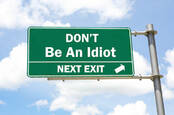 YouTuber cements head inside microwave oven
READ MORE
That stuff makes it onto YouTube because YouTube pays, so someone capable of whipping up an automated vid-maker-and-poster could score a payday by making nonsense. Or turning our nonsense into videos.
Come February 20th the algorithmic creeps will have to work harder, because after that date they won't be admitted into the Partner Program until their channels hit 1,000 subscribers and a total of 4,000 viewing hours. Anticipating automation to hit those figures, YouTube said that channels reaching those thresholds will still face scrutiny "under strict criteria to ensure they comply with our policies."
YouTube thinks those measures ought to help it clean out plenty of scum. But it's also admitted that "these changes will affect a significant number of channels" but added that "99% of those affected were making less than $100 per year in the last year, with 90% earning less than $2.50 in the last month."
The Register expects there'll be more than a few channels that earn their owners the occasional case of beer among that "significant" number of sites. Perhaps their exclusion from YouTube payments is worth it if the service cleans up. Or perhaps YouTube's real message is that low-volume sites need to try harder, as indicated by its kind offer to keep offering all members access to its Creator Academy and other vid-making advice services even if they're no longer eligible for cash payments. ®
Similar topics