Digital mortgage service sounds handy, right? Oh, it's through UK.gov's Verify
Keys in hands of highly borkable ID gateway
---
The UK government is cracking on with plans for a digital mortgage service to be launched this year, which will allow borrowers to sign mortgage deeds online via the Government Digital Service's deeply flawed Verify identity programme.
Greg Clark, Secretary of State for Business, Energy and Industrial Strategy, said: "[The Land Registry's] new digital mortgage service will enable borrowers to sign mortgage deeds digitally, speed up the remortgage process and improve the customer experience."
In a written statement to Parliament yesterday, he noted that a new liability risk arises with the service because the Land Registry will certify the identity of a borrower when that person provides a digital signature in advance of registration.
"The risk of the new liability occurring is considered low. The new process, where the borrower's identity has to be verified through GOV.UK Verify combined with HMLR's independent security processes, should in fact reduce the overall risk of fraud.
"To date GOV.UK Verify has not identified a single example of fraud despite in excess of 1.25 million citizens' accounts having been created using the GOV.UK Verify service," he said.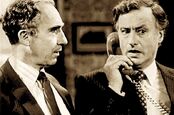 Engaged to be worried – Verify borks married tax allowance applications
READ MORE
However, given the woeful performance of Verify, it seems fewer than half of users will be able to access the service based on the identity programme's performance rates to date.
Since starting in 2011 and officially going live in 2016, Verify has had a long and troubled history.
It failed to work for farmers trying to register for Common Agricultural Policy payments – with a back-up phone system having to be hastily introduced instead in 2015. Later that year, recipients of married tax allowance were also left unable to access HMRC's tax credits.
Fed up with the failing service, the taxman eventually confirmed it was ditching the system entirely, and will be pushing forward with its own replacement for Government Gateway for self-assessment tax users.
The Law Commission has also pointed out in its consultation on online will-making: "Verify does not currently ensure that the person entering the information is in fact the person he or she is purporting to be; rather it focuses on verifying that the person exists."
One expert on digital identity, who asked not to be named, said the use of Verify raised more questions than it answered.
"It's unclear what value Verify gives if the Verify ID companies have no liability and the Land Registry is still going to do its own checks anyway.
"What happens when a Verify ID company exits the market, as with Verizon? Does this mean as per the performance stats that over 50 per cent of people will not be able to use this service?
"How does the digital signature process work and how will someone prove they are the same person in say 20 years time? Does Verify have indefinite future funding and if not what happens if the programme ends? How will joint signatures work? There is so much unexplained."
Hat-tip to reader Rich Greenhill for spotting this update. ®