News Corp executive chairman and internationally despised publisher Rupert Murdoch has waded into the fake news debate – and demanded that internet giants pay journalists for their work.
"Facebook and Google have popularized scurrilous news sources through algorithms that are profitable for these platforms but inherently unreliable," complained the octogenarian in a formal statement issued Monday.
He also derides Facebook's recent announcement that it will tweak its algorithms to include less third-party content and more updates from users' friends. "Recognition of a problem is one step on the pathway to cure," Murdoch huffed, "but the remedial measures that both companies have so far proposed are inadequate, commercially, socially and journalistically."
Recent efforts to introduce subscription models to fund journalism online were also given short shrift by the wrinkly mogul, who has long been a hate figure among journalists for his aggressive cost-cutting and enforced shift to highly slanted and sensationalist news gathering.
"There has been much discussion about subscription models but I have yet to see a proposal that truly recognizes the investment in and the social value of professional journalism," Murdoch argued.
Hearing Rupert Murdoch represent himself as the voice of professional journalism is liable to make anyone's brains hurt, but before it gets too painful, he finally shifted to his real focus: money.
Trust me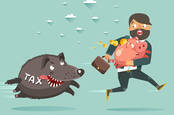 Tax Google and Facebook for a job subsidy scheme? Sigh
READ MORE
"If Facebook wants to recognize 'trusted' publishers then it should pay those publishers a carriage fee similar to the model adopted by cable companies," Murdoch argued. "The publishers are obviously enhancing the value and integrity of Facebook through their news and content but are not being adequately rewarded for those services. Carriage payments would have a minor impact on Facebook's profits but a major impact on the prospects for publishers and journalists."
It is a decent argument, albeit one focused on making the billionaire even more money. There is undeniably a shift occurring as the public finally comes to terms with the fact that there is inherent value in professional newsgathering.
In the past year, subscriptions – people paying for news – have rocketed. The New York Times has become the poster child for the approach. Having lost millions of dollars despite scaling back its newsrooms over the past decade, the paper has tapped into a widespread desire for authoritative information in a sea of "fake news" and has started expanding again thanks to more than two million people paying for unrestricted access to its content.
Last week, UK newspaper The Guardian announced that it expected, finally, to head back into the black in its next financial year as its voluntary subscription scheme pulls in the cash from 400,000 readers (although that prediction is predicated on the company cutting costs by an additional 20 per cent).
Facebook and Google are the filters through which an ever-increasing number of people view their news but they have long relied on the fact that most publishers put their content out on the internet for free to avoid having to pay for the content.
That dynamic has been under permanent strain, with occasional efforts to relieve the pressure inevitably failing. At various points, loss-making publications have actually paid Facebook and Google to push their content. And on occasion, the internet giants have paid media outlets to create content that its users find engaging.
Ya-who?
It reminds us of the early days of the internet when Yahoo! demanded that The Register pay it money to be featured on its site.
There are two questions at work here. The first is: who needs internet users more? Is it publishers that need readers to exist, or is it online platforms who need to maintain credibility and act as a daily source of useful information? The second question is: who's got the money?
Until recently, Facebook and Google had both the money and the power. But in the light of fake news, and with increasing user disappointment over a walled garden approach where engineers in Silicon Valley indirectly decide what you see, there has been a shift.
People not only increasingly crave reliable and authoritative information thanks to a political and societal atmosphere where leaders and figureheads lie openly and freely without repercussions, but newspapers are starting to make sufficient money to give internet giants the middle finger.
Facebook, still run by CEO Mark Zuckerberg, recently said it would rank news outlets by credibility and reliability and use that information to help it decide whether to display particular articles. Of course, this being Facebook, it said it would poll its users to work out that ranking – information that one former head of digital news noted would be inherently valuable to its business model.
So there is a clear shift underway. Whether that extends – as Murdoch would have it – to internet giants paying news outlets carriage fees for displaying their content we will have to see.
But it wouldn't be 2018 without an epic feat of gaslighting. In this case, it's a billionaire known for pulling money out of journalism while simultaneously undermining its professionalism arguing that there needs to be more money and professionalism in journalism. ®
Similar topics