This article is more than 1 year old
Playboy is suing Boing Boing over Imgur centrefold link
Court has been asked to toss out 'mystifying' sueball
Iconic lads' mag Playboy is suing oddball internet culture website Boing Boing for linking to an Imgur archive featuring scans of centrefold models from over the years – a move described by the US Electronic Frontier Foundation as "frankly mystifying".
Playboy Entertainment Group filed suit against the business behind Boing Boing, Happy Mutants LLC, on the grounds that a 2016 post (safe for work) ripped off the labours of the late Hugh Hefner's empire.
The post as linked above is substantially unchanged from a screenshot contained in Playboy's original complaint to the US District Court in Central California.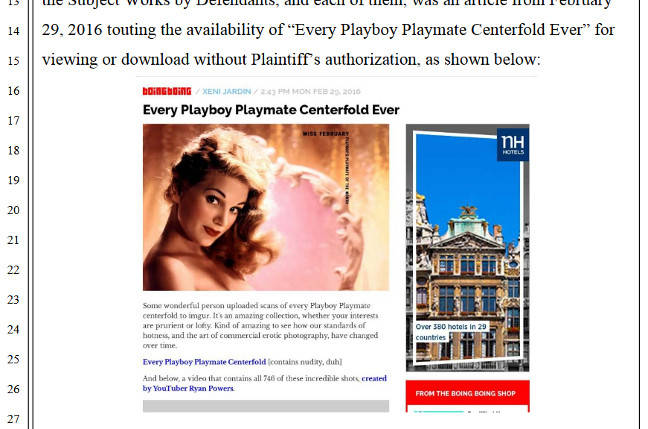 A screenshot of Playboy's lawyers' Boing Boing screenshot
In the article was a link to the gallery, on anything-goes image hosting website Imgur, which was said to contain a scan of every single nude centrefold model throughout the magazine's history. A YouTube video had been embedded as well, which contained a slideshow of the scans. Playboy's lawyers told the court that Boing Boing had "used and distributed" the naughty snaps and "exploited" them, as well as "knowingly induced, participated in, aided and abetted in and profited from the illegal reproduction" of the photos, in part because Boing Boing profits from displaying adverts around its blog posts.
Unsurprisingly, neither gallery nor video is online at the time of writing. Boing Boing has asked the court to dismiss the claim and denies any infringement: "Rather than pursuing the individual who created the allegedly infringing archive, Playboy is pursuing a news site for pointing out the archive's value as a historical document."
Though Playboy originally filed its lawsuit in November last year, the American Electronic Frontier Foundation, a digital civil rights group, filed a motion last Friday in defence of Boing Boing. It said: "Boing Boing's post is a non-infringing fair use, made for the favoured and transformative purposes of news reporting, criticism, and commentary so that the reader can, in the words of the post in question, 'see how our standards of hotness, and the art of commercial erotic photography, have changed over time'."
A possible motivation for Playboy's lawsuit may be the launch of an officially sanctioned book titled "Playboy: The Complete Centrefolds" (no link, you dirty sods can have that on your online search conscience) in August 2017. ®
Bootnote
Mildly NSFW.