This article is more than 1 year old
Take a former NSA head hacker, a Raspberry Pi, weird Kiwi radios and what do you get?
Legal – promise! – but completely mad Christmas lights, that's what
Shmoocon The news that Rob Joyce, former head of the NSA's elite hacking squad and now White House cybersecurity coordinator, was giving a talk at the Shmoocon infosec conference raised hopes he would offer up some juicy insights into the surveillance state or Donald Trump's cyber policies.
Instead Joyce talked about his very unusual hobby: uber-geek grade Christmas lights.
Joyce turns out tot be one of a small band who set their houses ablaze with custom light during the holiday season. For the last five years Joyce has been setting up a light show so bright that he joked he'd bought his neighbours foil to put over their windows to allow them to sleep.
"I started after seeing with another house doing the same thing, and I said 'I think I can do that,' to my wife," he told the conference. "She said 'yeah sure,' and I took that to mean yes you can, and then the boxes of kit started arriving from China."
This year Joyce had his whole house framed in LED lights, along with a 14-foot tree decked with colored light strips and lawn ornaments that also glow in the dark. He also added an animation screen playing images of characters from the popular cartoon strip Peanuts.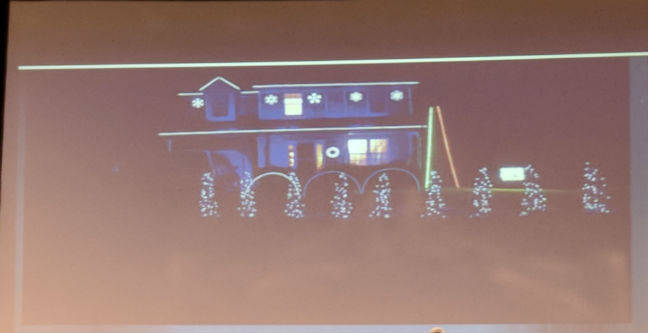 If you can find his house, it's worth it
Joyce uses a couple of Raspberry Pis to control the light show and a slightly dodgy FM transmitter to broadcast the soundtrack to visiting folks. The transmitter, bought as a kit from New Zealand, has the capability to broadcast illegally on FM frequencies, so is sold without the power supply attached to get around regulations, but Joyce said he keeps it low power and within FCC regulations because "I'm very legal."
The whole light show is run from the open source software Xlights (available for PC, Mac and Unix) and he bulk buys LEDs from China as part of a group that has them shipped over early in the year. The rig runs off a couple of 15 amp circuits and can be controlled by an Android or iOS device, as well as his (unspecified) home computer.
For those interested in emulating his example Joyce has a private Twitter account discussing how to light up your home for the Christmas season like a proper 1337 hacker. ®