A database admin liked Brit database tools biz Redgate Software so much that he decided to become a walking billboard and get the company logo tattooed on his arm. Fast forward nine years and his world imploded. Sort of.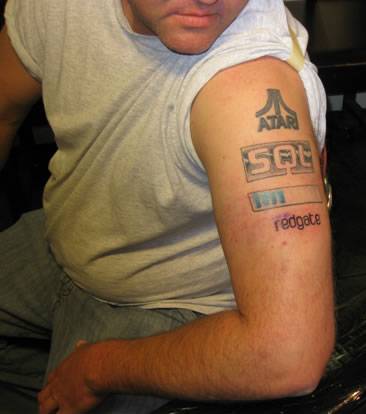 We will pay for its removal, marketing peeps told the admin...
Rodney Landrum, a DBA from Florida had written a positive review of one of Redgate's early products in the 2000, so when he met with Redgate co-founder Simon Galbraith in 2008 at a US event, he was known to the tech exec. Maybe others wrote mixed reviews so old Rod's effort stood out.
The man was no stranger to being inked, he already had tats of the Atari and the SQL Server mag logos, as well as a progress bar on his "geek arm", so when his wife suggested he add Redgate's brand, it made sense to him.
Landrum told Galbraith of his intent at the same meeting in 2008 and the co-founder – in "disbelief that this was actually going to happen" – wrote a contract by hand stating that Redgate would pay for the removal of the tattoo in future "if he [Landrum] ever came to his senses".
The deed was done (see above) and by all accounts, "everyone was excited about it," Redgate told us. But then the pesky marketing people at the company went and ruined it all by having the temerity to change their corporate badge in late 2017.
True to his word, Galbraith agreed to pay for the new version of the tramp stamp to be placed alongside the old one.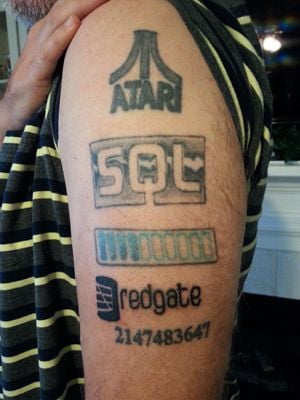 The new logo... plus Int32.MaxValue (aka the eighth Mersenne prime)... which admittedly might be slightly more useful to him than the others...
"When Rodney first got his tattoo, I guaranteed that we'd pay to remove it if he ever wanted. Ten years later, it's still there - and after 18 years, Rodney's still with Redgate - so it's only fair to extend the guarantee, and offer to pay for an update to our new logo as well," said Galbraith.
The company told us that Landrum "didn't get any free/discounted software for getting the tattoo – there was no monetary incentive for him in being inked."
The results can be seen on the right.
Well, it takes all sorts to make the world go round. El Reg just hopes Oracle doesn't buy Redgate because Landrum might then be accused of copyright theft and that only ever ends well... for Oracle. ®