This article is more than 1 year old
IBM UK's pre-Xmas GTS head-chop: THWACK! Is that it?
Unsure on-shore: When it comes to staff ratio, you hit it then quit it... right? Right?
IBM's Global Technology Services says it is finally edging closer to a proposed target to base 60 per cent of the workforce in offshore locations, one fifth in nearshore and another fifth onshore.
The 60-20-20 rule, as it is known within the company, replaces the previous model in which Big Blue intended to have eight in 10 GTS personnel in lower-cost areas, including India, by the end of last year.
Clearly top brass (or their consultants) have had a change of heart judging by recent comments to staff in notes from an Employee Consultation Committee (ECC) seen by The Register.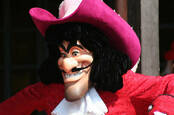 IBM turns panto villain as The Reg tells readers: 'It's behind you!'
READ MORE
The ECC was formed to give employees a voice in the latest round of UK job cuts. 1,118 IBMers from IS Delivery and 780 from Technical Support Services are at risk of redundancy with 514 expected to leave the company.
The ECC notes carried a question from one GTS employee: "If we are going to a 60-20-20 delivery model within GTS what is the current resource model ratio for IS Project Services Delivery and Managed Services in the UK and separately Ireland?"
The response from IBM stated: "For reasons of commercial sensitivity, we are unable to share the current exact ratios split by managed and project services."
Another staffer tried a different approach, asking: "With the goal of a 20/20/60 staffing split, does the number of reductions proposed in this consultation achieve that target, of 20 per cent onshore. If not, what percentage split will be achieved after this programme has concluded?"
Big Blue's riposte? "Yes, the number of reductions will enable the onshore/offshore ratio target to be achieved."
The good news is that IBM's relentless job-cutting looks to be drawing to a close. At least in the UK. At least in GTS. As for any bad news? Well, IBM's customers will just have to let us know how the ratio works for them.
Black & Blue: IBM hires Bain to cut costs, up productivity
READ MORE
The reason for moving staff to lower-cost areas is self-evident: IBM may have broken the duck and finally reported sales growth in its most recent quarter, calendar Q4 '17, but GTS once again posted a sales drop and its margins are not where the company wants them to be, insiders have told us.
As we exclusively revealed, IBM showed senior management slides about a proposed shake-up of GTS that would impact thousands of roles, with a little over 9,000 to be redeployed and another chunk classified as "attrition w/o backfill".
Other big outsourcing firms are facing a similar challenge – how to cut their cloth accordingly in the era of the cloud.
The Register asked IBM a bunch of questions, and was sent this statement:
"As IBM transforms into the premier cognitive computing and cloud platform company, we continue to remix our skills and invest in these priority areas. IBM does this in each market in which we operate, adapting to meet local client needs. Our clients expect no less. IBM currently has about 25,000 job openings around the world for new skills in growth areas such as cloud, analytics, security, and social and mobile technologies." ®