This article is more than 1 year old
What do people want? If we're talking mainstream enterprise SATA SSDs, reliability, chirps Micron
Capacity max same with 32- to 64-layer 3D NAND transition
Micron is looking to boost its high fidelity cred. The vendor has refreshed its three-model 5100 SATA SSD with a two-variant 5200, increasing reliability from two million to three million hours mean time before failure (MTBF).
The 5100 SATA 2.5-inch SSD was built from 32-layer TLC 3D NAND came in three flavours: Eco (high capacity), Pro and Max (longer endurance). The 5200, which replaces it, uses 64-layer TLC 3D NAND, and yet there is no change in maximum capacity, at 7.68TB. Both 5100 and 5200 SSDs use a 6Gbit/s SATA interface.
The Max flavour has been dropped, with just Eco and Pro versions of the 5200. The 5100 Max will continue to be sold to meet customer demand in the high endurance area.
There was a lower capacity M.2 form factor 5100 product, and that too has disappeared with the 5200.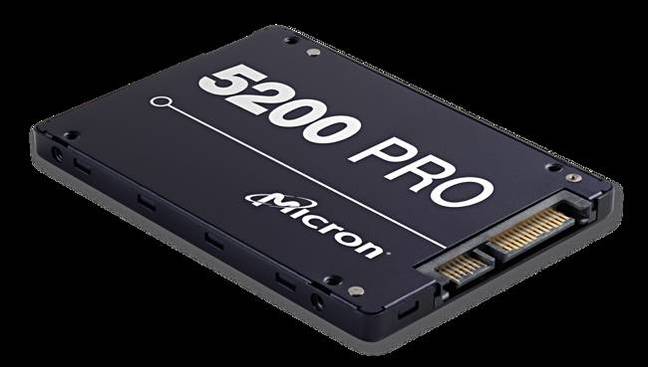 2.5-inch 7mm Micron 5200 Pro SATA SSD
The 5200 Eco capacity range is 480GB, 960GB, 1.92TB, 3.84TB and a maximum 7.68TB, the same as the 5100 Eco – no change there. For the 5200 Pro there are just two capacity levels – 960GB and 1.92TB.
Why no increase in capacity?
Micron 5100 and 5200 product manager Matt Shaine said: "We picked the capacity configurations we found to be the most popular with the 5100." He said time to market and efficiency were also considerations.
Also Micron is seeing customers wanting more than 8TB go to NVMe drives
Micron's Senior Business Development and Marketing Manager EMEA Nicolas Maigne said; "What this market really needs is 8TB and not more. The vast majority of the market is concentrated around 2TB."
The old 5100 and new 5200 performance numbers are roughly the same. The 5200 Pro has faster random write performance overall, at 32,000 IOPS, than the 5200 Eco which reaches 33,000 at the 480GB capacity level and then drops the IOPS number through the capacity range down to 9,500 at 7.68TB.
Over all, Micron claims the 5200s have better performance than other enterprise SATA SSDs such as Intel's S4500, Samsung's PM863a, WDC's SanDisk CS Eco G2, and Toshiba's HKR4.
In drive writes per day (DWPD) terms, the 5100 Eco, Pro and Max were rated at <1, 1-3 and 5 DWPD. The 5200 Eco is rated at <1 with the 5200 Pro being <2; the endurance in DWPD terms has decreased overall.
Endurance, capacity and relability
Why no increase in endurance with the 5200?
Shaine said the market for enterprise SATA drives was diverging into two use-cases: read-intensive drives with a 1DWPD/five-year rating, and mixed-use drives with a 3 - 5 DWPD/five-year rating.
The 5200 Eco and Pro drives were crafted for the read-intensive sector.
Micron said the 5200 is a cost-optimised SSD for business-critical virtualised workloads that cripple a hard drive, and the HDD replacement market is where it is aimed. These are hot-swap SSDs and have AES 256-bit encryption. A Flex Capacity feature lets (OEM) customers change the drive's endurance, performance, and capacity to suit the workloads they have in mind.
The company claims the average SATA SSD has a two million hours MTBF rating so the 5200 is 50 per cent more reliable, at three million hours, with the claimed industry's lowest annualised failure rate at 0.29 per cent versus 0.44 per cent for other similar drives.
Why the increase in reliability? Shaine said it represented an opportunity for Micron to differentiate its products, with Maigne adding that Micron would like to push the industry upwards, away from its two million hour MTBF anchor point. Customers prefer more reliable drives.
Over the life of the 5100, Shaine said, Micron saw that its reliability was better than originally specified. The manufacturing was high quality and the design was good enough for that to happen. So it uprated the reliability to three million hours and the 5200 inherited that.
That's the main 5200 pitch, that and better random write IOPS with the 5200 Pro over the 5100 Pro.
What people needed was reliability above all at the sub-8TB read-intensive enterprise SATA SSD level, but not endurance per se, which is why the 5100 Max did not get a 5200 equivalent. ®