This article is more than 1 year old
Under fire for its shoddy response, FCC finally wakes up to Puerto Rico
But recovery on the island still sluggish
Analysis America's comms watchdog has finally started reacting to the dire situation in Puerto Rico, months after it was hit by a hurricane.
This change in heart comes in the wake of fierce criticism from one of the regulator's own commissioners, as well as a formal report from the US government's General Accountability Office (GAO).
Having refused to hold hearings or even gather evidence for months, the Federal Communications Commission (FCC) finally announced on December 7 that it would seek public comment on its response to network infrastructure damaged during last year's hurricane season.
We now know that announcement came just days before a final report by GAO auditors into the FCC's actions – or lack of them – was handed to the regulator. The FCC will have seen a draft of the audit days before receiving the final version on December 9, meaning it likely kicked off the public consultation on December 7 to be seen to be taking a positive and proactive position.
That GAO report was not made public until a month later – January 9 – and is notably critical of the FCC, in particular its failure to hold carriers accountable for repairing their own networks. Comments submitted to the FCC's consultation – which ended on Monday this week – have reiterated those concerns, and added more.
"Months after Hurricane Irma wrecked the US Virgin Islands and Hurricane Maria desolated Puerto Rico, the FCC has yet to undertake a comprehensive examination of why so many American citizens have been left without even basic communications for far too long," Shiva Stella, of the copyright and comms policy outfit Public Knowledge, said today after filing comments to the federal regulator.
"It is critical that the FCC evaluates how to improve disaster recovery efforts. The Commission must undertake a serious inquiry and establish rules and procedures to ensure that consumers in geographically hard-to-reach areas are re-connected with their families and with necessary services after devastating natural disasters," she added.
Are you hearing me?
That call reiterates what one of the FCC's five commissioners, Jessica Rosenworcel, has been arguing for since November: hearings into what lessons can be learned from the emergency response. That was the approach taken with previous large hurricanes, Rosenworcel has repeatedly pointed out.
On November 6, she tweeted: "Nearly seven weeks since Maria hit Puerto Rico. Nearly half of island's cell sites still out of service. This is unacceptable." She also noted that FCC chairman Ajit Pai had yet to visit the island and called for hearings.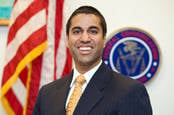 It's a question worth asking: Why is the FCC boss being such a jerk?
READ MORE
Rosenworcel also put out two formal statements on the issue, criticizing the slow speed in which the FCC was acting to improve wireless emergency alerts, and another in which she pointedly criticized Pai. "You learn more out on the ground than you do sitting on this dais," she fumed. "I hope this agency has the guts to do this."
In addition to failing to hold hearings, and failing to hold carriers accountable, we noted that the federal regulator had cut down on its reporting requirements – a decision that appeared to cause an immediate slowdown in the recovery of cell phone sites.
Incredibly, and for the second time, the day after we reported publicly on the FCC's failings, the regulator reduced the frequency of its reports again – and that again seemed to cause a slowdown in recovery efforts.
Initially, the entire island was predicted to be back online by December 17. When, on November 18, that reporting requirement was reduced from daily to three times a week, recovery slowed and full recovery shifted to January 10.
On December 22, reporting requirements were lowered again to just two per week and now the island is predicted to take until March 5 to be fully back up and connected.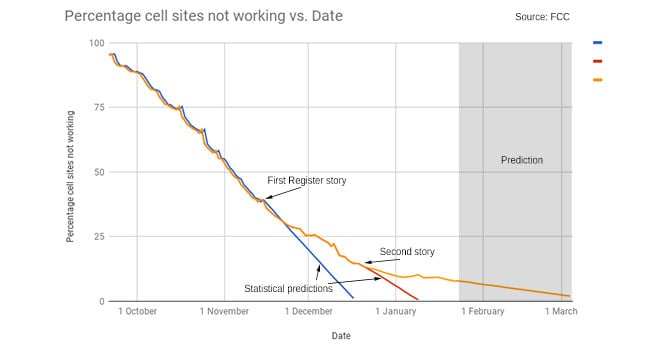 The FCC has twice changed its reporting requirements: on both occasions, it has happened one day after we wrote a story using the figures to criticize the federal agency. And on both occasions, recovery has immediately slowed.
PR effort
With pressure building on Pai for his failure to respond to concerns, his team has embarked on a series of face-saving efforts.
Last week – just days before most public comments on the FCC's actions were filed – Pai gave a speech on "the critical role of 911 during major disasters." The next day he gave another speech, this time on broadcasters' role in emergencies.
The week before – and two days after the critical GAO report was published – he put out a statement on "helping hurricane-affected TV stations."
Despite these PR efforts, however, the island remains in trouble four months after it was struck by Hurricane Maria. An extraordinary 40 per cent of residents are still without electricity. One story this week tells how residents have given up waiting for the government to fix their power lines, and have started doing the work themselves. The latest FCC update notes that eight per cent of the island is still without cell phone sites.
The obvious question is: why is the FCC being so slow to respond and why does it continue to resist calls for a hearing into how to learn from the response? Unfortunately, the answer to that question lies in the White House.
In the aftermath of Hurricane Maria, which wrecked Puerto Rico on September 20, criticism started mounting as efforts to rebuild the island contrasted with seemingly much larger reconstruction efforts on the US mainland after Hurricane Harvey slammed Texas at the end of August, and Hurricane Irma skirted Puerto Rico and hit Florida days later.