This article is more than 1 year old
Elon Musk offered no salary, $55bn bonus to run Tesla for a decade
All he has to do is make Tesla the third-most valuable company and vastly increase revenue
"Vertically integrated sustainable energy" company Tesla – more on that description later – has revealed a new compensation plan for CEO and founder Elon Musk that will see him work for nothing but could see him earn US$55 billion over the next decade.
Musk will not draw a salary and can't earn bonuses for time served over the next decade, which won't mean his fridge is empty because he's already wealthy after selling PayPal.
But if Tesla hits a series of  12 "Market Capitalization Milestones" starting with the company hitting value of $100bn, up from its current $65bn, then stepping up by $50bn to $650bn, he can score bonuses.
Just three companies ended 2017 with a market cap over $650bn - Apple, Alphabet and Microsoft - so Tesla's asking Musk to take it to giddy heights. By way of contrast, General Motors' market cap is $61.5bn and Ford is at $41bn.
Past compensation plans for Musk have outlined milestones like building certain numbers of cars. This time he's been offered 16 "Operational Milestones" that describe revenue and profitability goals. If all goes to plan Tesla will have revenue of $175bn and EBITDA of $14bn in a decade. Again, Musk's being asked to do a lot: Tesla's last quarter saw it score just under $3bn of revenue, but post a net loss of $619m.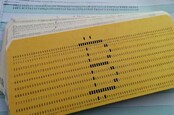 Elon Musk says he's not Satoshi Nakamoto and is pretty rubbish at Bitcoin
READ MORE
Can even Musk succeed in that task? Perhaps the description of the company we quoted at the start of the story explains why it's felt feasible: Tesla believes it is pioneering the solar energy market rather than just making cars. It has plans to "Expand solar energy generation through Solar Roof and other solar products, and seamlessly integrate them with battery storage" and to "Build out Tesla's vehicle product line to cover all major forms of terrestrial transport". Its vehicles will be designed to be shared when owners aren't using them, thanks to automation, so that your car can earn you money while you sleep. That's a lot of markets to address, all with plenty of upside.
The compensation plan will be the subject of a special meeting of Tesla shareholders. The company's board recommends it.
Once signed off, all Musk has to do is ace all those targets them all while keeping his rockets flying, tunneling machines digging and AI projects cogitating. We should all have such problems. ®