NHS outages KO Welsh GP services and Manchester A&E
No connection... between the blackouts
---
A data centre glitch has left doctors in Wales unable to access their patients' details – while a similar outage in Manchester, England, has placed severe strain on hospitals' accident and emergency departments.
Dr Alan Woodall, chairman of GP Survival UK who works from a surgery in Montgomeryshire, mid-Wales, told the Beeb: "Myself and colleagues that work in primary care cannot access electronic patient records which is severely inhibiting our ability to provide patient care."
Both of NHS Wales' main data centres, at Blaenavon (north of Newport) and Cardiff, have suffered unspecified technical problems, though at this stage it is not thought to be the result of malware or a cyber attack.
"There is currently a technical issue affecting two NHS Wales Data Centres. This is under investigation by the NHS Wales Informatics Service and is being dealt with as a priority," NHS Wales said in a statement.
Downtime has also struck NHS services across Greater Manchester, which was so bad that managers urged the public not to attend A&E departments.
"Manchester University NHS Foundation Trust is experiencing a network outage on the Central and Trafford sites. We are working to resolve this as quickly as possible and services are using their well-rehearsed business continuity plans," said the trust in a statement, without elaborating.
The main NHS Digital press office said it was not aware of the Manchester outage and told us networks in England were fine.
A source within the NHS a screenshot of its internal system status page this afternoon, which appeared to confirm the press office's view: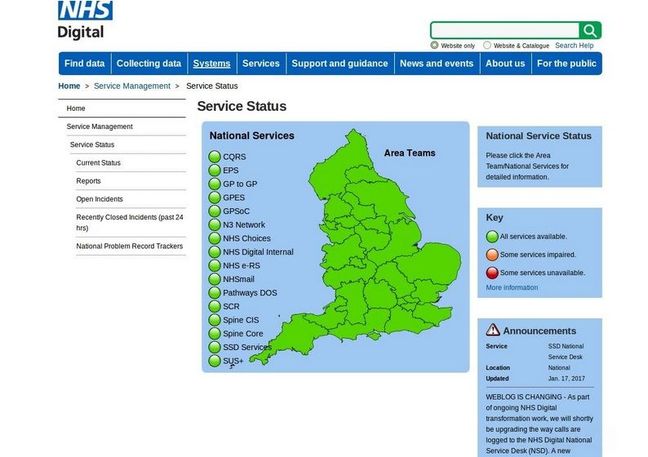 Do you know more about these outages? Email us on news@theregister.co.uk in confidence. ®