This article is more than 1 year old
Muglia's monster Snowflake in quarter-of-a-billion-dollar funding blizzard
VCs chuck money at data warehouse startup
Data Warehouser in the cloud Snowflake has just raised $263.5m, eight months after raising $105m, making it a startup monster with a unicorn valuation of $1.5bn.
Since being founded in 2012 it has raised a total of $473m. Ex-Microsoft senior exec Bob Muglia became CEO in 2014 and the funding history has been meteoric since then.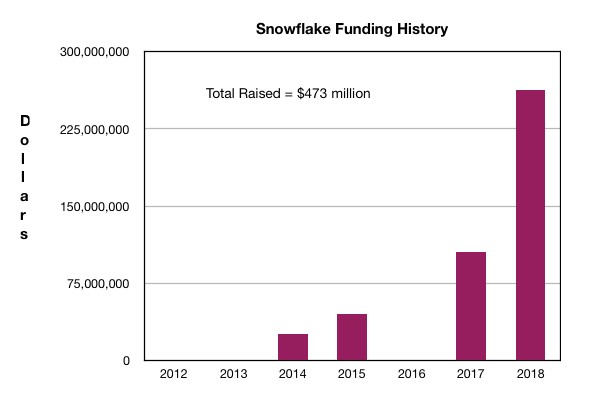 This is Series E funding from investors ICONIQ Capital and Altimeter Capital and newcomer Sequoia Capital. The valuation was $1.5bn.
Snowflake has raised more than Palantir, Airbnb and Okta at comparable moments in their development after exit from stealth. It is behind only Slack, Magic Leap and Lyft in terms of rapid growth.
What has driven the VCs into a funding frenzy is a straightforward product/service offer with horizontal appeal to enterprises, and revenue growth.
Muglia told us Snowflake is seeing really fast adoption, with revenues growing 300 per cent year-on-year for the past three years: "We plan to more than double next year [and] we'll continue to have really rapid growth."
It's growing its infrastructure fast, and has 40 people in Europe, mostly in the UK. Snowflake is aiming to expand in Australia and Asia eventually, with Japan and Korea as potential geographies in 12 months time or so.
He sees Snowflake competing with the largest companies on the planet – Amazon, Google, IBM and Microsoft, plus other data warehousers such as Teradata.
Muglia told us he believes customers need to be able to burst data warehousing to the public cloud when they need answers faster than the in-house infrastructure can provide. They also need to have company-wide and secured access to data, he added.
They need to share secured subsets of data with partners and suppliers in their overall eco-system and Snowflake can do that. Everyone supplier involved in making parts for a product can instantly see component defect rates and get the process operating to fix anomalies.
+RegComment
What we're seeing here is the date warehousing equivalent of Salesforce, a public cloud-based platform-as-a-service offering that is streaking ahead of everyone else and set for a monster IPO in – we'd guess – around 2019/2020. ®