Western Dig revenues take $0.82bn spanking from US tax shake-up
But now lots of lovely cash abroad can be used more easily
Drive-shipper Western Digital reported record revenues in its second quarter but new US tax laws dragged it into a $0.82bn net loss.
Revenues were $5.3bn, 8.4 per cent higher than a year ago, and just 2.3 per cent up on the previous quarter. There was a GAAP net loss of $823m, which, WDC said, "includes a provisional net tax charge of $1.6bn primarily due to the repatriation tax as a result of the Tax Cuts and Jobs Act".
That suggests the GAAP net income without that charge would have been around $777m. It was $235m a year ago and $681m a quarter ago. Another indication of good progress in the year is the operating income number – $955m this quarter and $545m a year ago.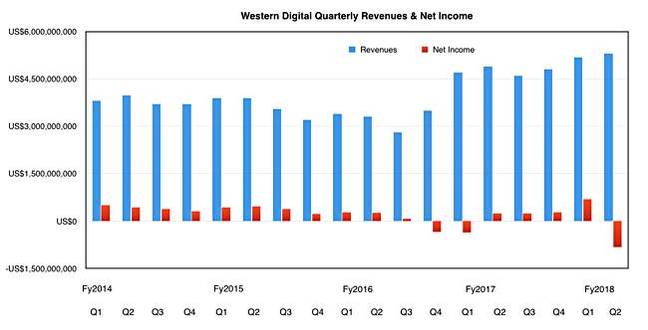 WDC revenues and GAAP net income by quarter to Q2 fy 20918
CEO Steve Milligan said revenue growth was "driven by each of our major end market categories", singling out "capacity enterprise hard drives and flash-based products". The 64-layer NAND technology is being deployed across its SSD portfolio, with 96-layer technology ramping later in 2018 – it is sampling drives now.
He confirmed that WD Corp plans to sample its MAMR-based capacity drives in the July-December 2018 period. This technology could lead to 40TB-plus drives.
Total disk drive units were 42.3 million, compared to 44.8 million a year ago and 42.2 million in the previous quarter. A massive 95.3EB of capacity was shipped. It was 77.8EB a year ago and 87.4EB a quarter ago.
A look at the disk drive segment splits shows that consumer drive numbers dipped quite sharply quarter-on-quarter, notebook drives down a little, but the other categories – desktop, branded and enterprise – all rose.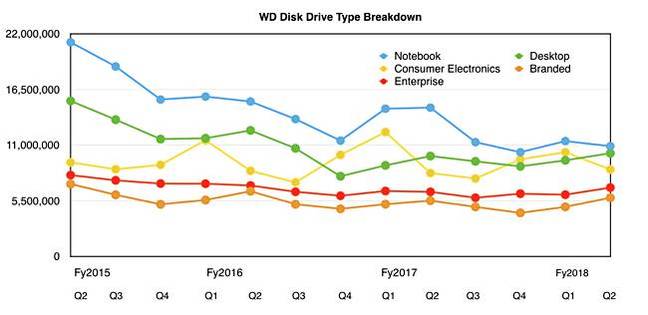 Quarterly disk drive segment numbers to Q2 FY 2018
In the earnings call, president and COO Mike Cordano said WDC was seeing growth in all its product segments – client devices (drives), client solutions (products with software and drives), data centre devices (drives) and data centre solutions (arrays).
The company expects high-capacity enterprise disk drive demand to grow at more than 60 per cent in the first half of calendar 2018, according to Wells Fargo senior analyst Aaron Rakers.
Rakers estimates WDC's "total NAND Flash revenue at $2.67bn versus $2.57bn in the prior period and $2.09Bn in the year-ago period".
He is disappointed with WDC's SSD sales to business, saying: "WD's performance in enterprise SSDs has remained a negative, in our opinion. We will be focused on forthcoming eSSD introduction, including the integration of 96-layer (BiCS4 3D-NAND) as a driver of improved performance going forward."
In light of continuing SSD penetration of business markets, WDC is eliminating future investments in performance enterprise drives (10K and 15K rpm drives) and narrowing its client HDD portfolio. The flash market looks stable and WDC is glad to have secured its partnership position with Toshiba after all the legal and other wrangles over Toshiba's part sell-off of its flash joint-venture interests.
CFO Mark Long talked about the new US tax law, saying the provisional net tax charge of $1.6bn was "due primarily to the one-time mandatory deemed repatriation tax, which is included only in our GAAP results. The payment of this repatriation tax will be spread over the next eight years, which is expected to begin in fiscal 2019, with approximately 60 per cent due in the last three years of the period."
It's actually quite good news as WDC will "benefit from the new tax law by having the ability to access our global cash in the US in a highly efficient manner".
WDC hopes to see some $4.9bn revenues in the next quarter; they were $4.6bn a year ago. ®