Security researchers have uncovered flaws in Bluetooth-based panic buttons that, in a worst-case scenario, make the affected kit "effectively useless."
Duo Labs put a range of Bluetooth-based personal protection devices – aka panic buttons – from ROAR, Wearsafem, and Revolar through their paces. These gadgets typically connect to your smartphone so that close friends and family can keep an eye on where you are. When triggered, the gizmos sent out texts for help via the phone.
Researcher Mark Loveless found vulnerabilities in two of the widgets which, if exploited, can open its users to stalking or worse.
Wearsafe's button was vulnerable to denial-of-service attacks. If flooded with connection requests, a hacker could lock the user out of the device until the battery is removed and reinserted. The device also continually broadcasts its Bluetooth radio, meaning it can be tracked.
Revolar's device was also found to be vulnerable to Bluetooth tracking.
"While it wasn't nearly as easy to remotely track a Revolar owner, it is still possible to track the owner of either the Revolar or Wearsafe device from a distance via Bluetooth with inexpensive antennas that extend the scanning range," said Loveless.
"Both devices allow for Bluetooth scanning to identify the device as a personal protection device. Both devices allow for somewhat insecure Bluetooth pairing."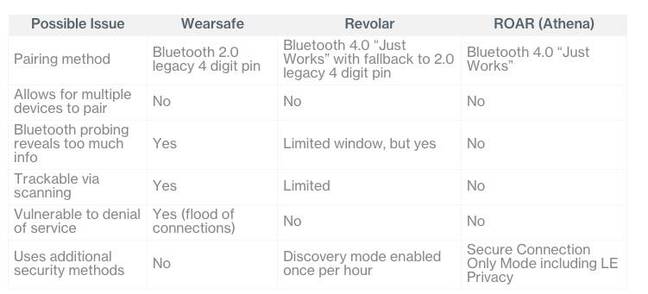 IoT panic button security report card [Source: Duo Labs]
El Reg asked both Wearsafe and Revolar to comment. ®