This article is more than 1 year old
DRAM, it's good to be in storage... for some
It's been a week, hasn't it, storage fans?
So after a week of replicating, virtualising, backing up and inhaling and puffing out data to the cloud it is time to check what has been happening in the land of storage.
We have news on Portworx and HPE, Pure Storage, SK Hynix, SpectraLogic, StorMagic, plus snippets on Gridgain, Snowflake and Virtual Instruments...
Grab a caffeinated beverage and read on.
Portworx
Container storage product provider Portworx has integrated its offering with HPE's composable infrastructure Synergy product in a reference architecture or configuration. The resulting configuration uses Portworx's storage software with Kubernetes as the container orchestration tool.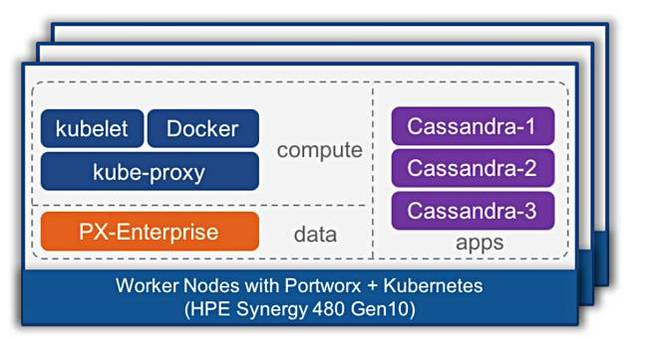 Portworx and Kubernetes on HPE Synergy. Picture from SiliconAngle.
Get more info on the reference configuration here.
Pure Storage
This all-flash array vendor has announced support for VMware's vSphere Metro Storage Cluster, vSphere Virtual Volumes and gained a VMware Validated Design.
So ...
Purity 5.0 supports ActiveCluster and its an active/active synchronous replication and multi-site stretch cluster tech that delivers zero RPO and zero RTO across racks, data centres or metro regions at no extra cost. ActiveCluster support is installed via a non-disruptive software update.
Support for vSphere Metro Storage Cluster ensures an end-to-end, highly available, virtualised environment to support Tier 1, mission-critical applications.
Pure says conventional synchronous replication and stretch cluster products have been complex and costly, with setups ranging from days to weeks, and involving hundreds of pages of manuals. The licence fees, external gateways, and the frequent need for outside professional services add to the pain and expense.
With Pure supporting VVOLs vSphere, users get previously host-run services offloaded to the FlashArray, claims the vendor. They get per-VM granular mapping to the FlashArray, which helps assure per-VM service level agreements, simplifies per-VM management and gains per-VM portability. VVOLs on FlashArray utilises storage policy-based management to automate provisioning of VMs and align application requirements to available FlashArray data services including highly efficient snapshots and replication.
Pure has achieved certification of its VMware Validated Design for Software-Defined Data Center in the VMware Certified Partner Architecture programme. This VMware Validated Design consists of vSphere, NSX, vRealize and Pure's FlashArray.
In Reg storage desk's view, it's a solid piece of incremental data centre acceptability progress from Pure that will hopefully accelerate the use of VVOL technology.
SK Hynix
Korean chipper SK Hynix reported sparkling fourth quarter and full year 2017 results on the back of great pricing – from its point of view, naturally – for DRAM and NAND chips.
Its Q4 operating profit nearly tripled to 4.5 trillion won ($4.2bn). Sales in 2017 totalled 30.1 trillion won ($28.3bn) while net income for the year was 10.64 trillion won ($10.93bn). The equivalent 2016 numbers were 17.2 trillion ($16.2bn) and 2.96 trillion won ($2.8bn) respectively, up 75 per cent and 260 per cent.
SK Hynix says it will pave the way for its full-fledged entrance to the enterprise SSD market by increasing the proportion of 72-layer 3D NAND it makes. Currently 3D NAND is about half of its total NAND output. Other suppliers, such as Micron, Toshiba/WDC and Samsung, use 64-layer 3D NAND
SpectraLogic
Tape lives! At least in UK broadcasting... The vendor boasts that UK TV broadcaster ITV has chosen two Spectra BlackPearl Converged Storage Systems and two Spectra T950 Tape Libraries to protect and preserve its digital assets long-term.
There are two separate data centre locations: Greenwich and Leeds. The Greenwich data centre deployed a BlackPearl and T950 with IBM TS1150 drives, and the Leeds data centre deployed a BlackPearl and T950 with LTO-7 tape drives.
Data is moved to and from ITV's archive automatically via BlackPearl using a variety of integrated partner applications and a Customer Created Client (CCC) that ITV built through Spectra's BlackPearl Developer Programme.
ITV also moves data manually via Spectra's BlackPearl Eon Browser.
StorMagic
StorMagic has announced the availability of new low-cost, hyperconverged appliances: StorMagic Dell EMC HCI 640 (2-node, 2U, 2TB) and HCI 740 (2-node, 4U, 6TB.) They use StorMagic's SvSAN hyper-converged software with Hyper-V or vSphere hypervisors installed on the Dell servers.
The boxes - Dell R640 and R740XD servers - come fully configured through Dell's OEM group and are distributed through Exertis.
John Glendenning, StorMagic SVP of sales and business development, said: ""HCI vendors have a reputation of primarily targeting enterprise data centres and large remote sites, which is apparent in the cost and complexity of these solutions."
We'd guess he is talking about Dell's VxRail HCI appliances and its OEMed XC ones.
StorMagic "is erasing that perception with appliances designed specifically for small data centres and edge computing with pre-configured, two-server clusters that bring HCI to a price point and level of simplicity that has just not been available until now."
Initially, the HCI appliances are only available in the UK through the StorMagic partner network. The starting price for a two-node 640 appliance is £15,500 MSRP with the two node 740 appliance retailing for £24,500 MSRP. Upgrade options are available.
Veeam
It wouldn't be a proper storage week without news from Veeam. So here we learn that Veeam, now describing itself as the Availability for the Always-On Enterprise innovator, says its Veeam Recovery to Microsoft Azure with Veeam PN (Powered Network) is now available.
On-premises workloads can be recovered to Azure by using it.
Veeam PN is free software that is a light-weight software-defined VPN-type thing and said to eliminate complicated VPN installation and simplify network configuration.
We're told IT can automatically spin up an Azure cloud instance, and securely connect the business to customers, partners, and employees regardless of their location, without the cost of a redundant standby system.
It is claimed to be complete and turnkey and delivers cloud restore for Veeam backups. The Veeam PN does away with the need to set up a VPN to create a recovery site in Microsoft Azure.
More information here.
Shorts
In-memory technology supplier GridGain said its 2017 sales surged 84 per cent compared to 2016, with a mix of new and repeat orders from companies in financial services, fintech, online travel services, telecommunications, web-scale online business services, and healthcare. Headcount increased 73 per cent during 2017, as it expanded its presence in Western Europe, North America and the CIS region, with additions in sales, professional services, development and customer support.
Cloud data warehouser Snowflake and MicroStrategy, a business intelligence service provider, are partnering to offer MicroStrategy customers access to Snowflake's data warehouse. The two say their integration unifies data across the enterprise, giving customers a single version of the truth.
App, system and network performance tester Virtual Instruments will show its app-centric infrastructure performance monitoring and analytics VirtualWisdom product with Cisco's MDS 9700 32G Module and Fibre Channel SAN Telemetry Streaming offerings at the Cisco Live event in Barcelona, from 29 January to 2 February 2018. ®