This article is more than 1 year old
A Dell/VMware acqui-merge? Good luck landing that, big Mike
VMware thrives because it is plausibly independent. Why rob it of that?
The Wall Street rumour mill has recently spun out scenarios in which Dell will either allow itself to be acquired by VMware as a shortcut to its own return to public ownership, or buy back the bits of VMware that are public.
Both may be clever financial gymnastics that help the company pay down debt now that it can no longer offset interest payments to the same extent possible before the USA's new Trumpian tax regime. But Dell needs to explain what such manoeuvres mean before tongues start wagging about why it's apparently reversing course and robbing VMware of the plausible independence it must have to succeed.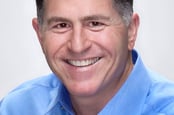 Dell/EMC year one has exceeded Michael Dell's expectations
READ MORE
Dell going public again would be a substantial reversal because the company has revelled in not being listed. Michael Dell has often said that his company does its best work for customers when it doesn't have to explain itself to financial markets every 90 days and that being privately-owned is Dell's secret sauce compared to rivals like HPE that have to find ways to keep investors satisfied.
Dell, the company and the man, have also repeatedly said VMware is a wonderful asset because it is doing as much as anyone to define the hybrid cloud and the software-defined data centre. Dell believes that VMware will set agendas for years to come, and haul in buckets of money, even as data centres are scattered across multiple public and private clouds.
That view is (or was?) based on VMware's not-wildly-optimistic belief that network virtualization is at least as big an opportunity as server virtualization, because between cloud and microservices we'll need the ability to create, automate and secure networks like never before. VMware's also demonstrated other ways to make abstraction and isolation useful, and grow new lines of business by doing so.
If Dell the man's belief in VMware and private ownership have changed, an explanation about why would be appreciated.
Especially by VMware investors, who have seen their stock surge pleasingly in recent months thanks in part to Dell keeping VMware independent.
Live free or die
Investors like VMware because it is a platform company at a time when a platform's needed to tie clouds together.
Platform companies must work with partners. VMware understood this early in its history and so did EMC when it acquired the server virtualization pioneer. The storage industry, Intel and server-makers were therefore happy to be tugged around by a software company they mostly dwarfed because VMware added value to them all and did not do any notable favours for EMC.
Today, VMware's arms-length relationship with Dell means partners and customers alike still don't feel like they're being hugged just a bit too tight by a giant that knows it can be careless of its strength.
But rumours of acquisitions or mergers mean it is natural to ask if Dell and VMware have plans to integrate in some way that could make them more than very close allies.
I don't think they can completely integrate because doing so would see goodwill for VMware's platform drain away at a time it needs it the most. Nobody thinks virtual machines and the tools to manage them are going away any time soon, but it's also clear that most new applications will use cloud-native technologies. VMware needs its friends more than ever to make sure that its efforts in the new field are well-supported and promoted, while its base is protected. A combined Dell/VMware would give partners little reason to do either.
Mutual optimisation boneyard
A post-enthusiastic-partners Dell/VMware might look a bit like Sun/Oracle – bravely insisting that mutually optimised hardware and software have advantages galore while never looking in the direction of the boneyard occupied by vendors who tried and failed such strategies (There's a grave in there reserved for IBM's mid-range platforms, too.)
A more likely outcome is that Dell finds a way to realise the value of VMware to help it pay down debt. Just 18 per cent of VMware is publicly traded. Plenty of investors might fancy a chance to hitch a ride and the cash they send could pay of Dell's debt.
Right now, such an extended sale of VMware looks like a more comfortable option: the company shed US$10bn of value after the rumours of a Dell buy emerged, indicating displeasure with such a plan among investors. ®