Equinix CEO bails after 'poor judgment in employee matter'
A decade of growth and no strategy dispute suggests this wasn't about wearing ugly shorts on casual Friday
---
Data centre operator Equinix is looking for a new CEO after the previous occupant of its big chair, Steve Smith, resigned "after exercising poor judgment with respect to an employee matter."
Equinix's board accepted his resignation but has given no other reason for Smith's departures.
The company's announcement stated that Smith's resignation "was not related to the company's operational performance or financial condition, both of which remain strong."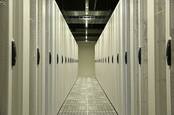 MC Digital Realty – not a DJ, not a burger, not at risk of soil liquefaction
READ MORE
The company's also thanked Smith for "many contributions … made over the past eleven years to achieve the global scale, reach and market leadership the company enjoys today."
An SEC filing said "Mr. Smith's decision to resign was not related to a disagreement with Equinix over any of its operations, policies or practices."
The Register has no idea what happened, but clearly whatever Smith did was not a minor matter. And perhaps also not a matter Equinix felt it could ride out, if details became public. We'll leave it to readers to speculate about what kind of incidents meet those criteria, especially at a time that Silicon Valley's testosterone-fueled culture is being challenged as never before and the #MeToo movement evolves.
Equinix executive chairman Peter Van Camp has been appointed interim CEO and a search has commenced to find a new boss. ®