Samsung preps for Z-SSD smackdown on Intel Optane drives
February reveal for wannabe XPoint killer
Samsung is launching its ambitious supercharged NAND Z-SSD in competition with Intel's P4800X Optane drive.
Specs for the SZ985 Z-NAND drive were revealed in November, displaying close-to-Optane performance, slightly lower latency, faster read/write bandwidth and random read but lower random write IOPS.
|   | Tech | Capacity | R/W IOPS | R/W bandwidth | Life | R/W Latency |
| --- | --- | --- | --- | --- | --- | --- |
| Optane P4800X | 3D XPoint | 750GB | 550K | 2.4/2.0 GB/sec | 41 PBW | 10/10μs |
| SZ985 | SLC NAND | 800GB | 750K/170K | 3.2/3.2 GB/sec | 42.7 PBW | 12-20/16μs |
The P4800X comes in 375GB and 750GB capacity points. Samsung has revealed a new 240GB capacity alongside the known 800GB model.
It says the SZ985 and P4800X compete in the "premium SSD" market, defined as an SSD with more than 550,000 random read IOPS and latency lower than 20μs.
The SZ985 has 1.5GB of LPDDR4 DRAM and a "high-performance controller", although no specific numbers have been given to back up that claim. Samsung confirms it will do 30 drive writes a day for five years and has a 2 million hours mean time before failure rating. It has a single-port, four-lane PCIe 3.0 interface, with no mention of NVMe.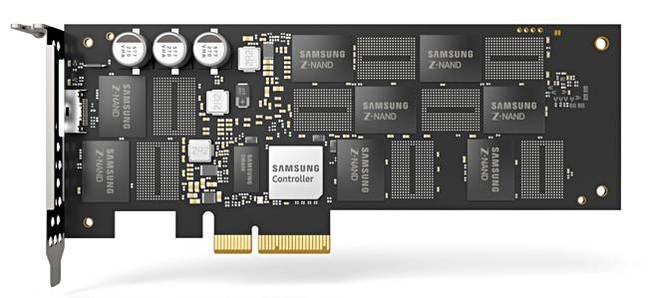 Samsung SZ985 Z-NAND Z-SSD
Target markets need high-speed cache and log data processing, such as HPC, AI, big data and IoT.
Unlike Intel with its 16GB and 32GB XPoint memory modules, Samsung is not releasing memory module format Z-SSDs.
Jinman Han, SVP for memory product planning and application engineering at Samsung Electronics, said: "We will continue to develop next-generation Z-SSDs with higher density and greater product competitiveness, in order to lead the industry in accelerating growth of the premium SSD market."
We understand this may include an MLC (2bits/cell) version of the current SLC (1bit/cell) Z-SSD technology.
Sammy says it will show the new Z-SSDs, as well as related technologies, whatever that means, at International Solid-State Circuits Conference 2018 running February 11-15 in San Francisco. No pricing details were revealed. We imagine sample kit has been with potential OEMs for some time and systems using Z-SSDs might appear later this year to test the market. ®