This article is more than 1 year old
Measure us by subscriptions, says upbeat Citrix
Says cloud plan is working better than expected but predicts very modest growth
Citrix has posted a strong fourth quarter, claimed its turnaround plan is working better than expected and asked the world to measure its health by looking at the number of subscribers it secures.
Interim chief financial officer Mark Coyle presented a mixed set of numbers: revenue of US$778 million was up six per cent year-over-year while operating margin was 40 per cent, up substantially.
But the company still managed to lose $284 million for the quarter, thanks to $429m of restructuring charges associated with the USA's new tax laws.
The annual picture's not a stunner: revenue hit $2.82 billion, up three per cent compared to 2016's $2.74 billion, and a $20m operating loss.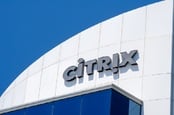 Goodbye Netscaler, Xen. Hello Citrix SD-WAN, Citrix Desktop, Citrix...
READ MORE
But CEO David Henshall was very upbeat about the result because subscription services grew, bringing with them pleasingly large deferred revenue numbers. Subscriptions still account for just 12 per cent of Citrix revenue - $89.7m for the quarter and $315m for the year – but Henshall said that investors should measure the company's progress by considering subscriber numbers and the revenue they generate.
Another bright spot for Hensall is the company's networking business, which he said is doing well as customers realise its software-only approach means they can run WANs and application delivery controllers without having to upgrade hardware. Lots of networking deals are coming as customers go all-in with Citrix, he added. The CEO added his belief that integration between Citrix's networking and workspace products has probably contributed to an uptick in wins against its main competition (which is almost certainly VMware).
The CEO was also pleased to report that Citrix's SaaS offerings are gathering steam.
"We are aggressively driving reform of the company and we did it without missing a beat," the CEO said. "Customers and partners are embracing the subscription model. They are driving it faster than we thought."
But they're not driving Citrix very far or very fast: the company predicted $2.86-$2.88bn of revenue for 2018. Henshall did say Citrix wants to err on the side of caution with its predictions, but adding $40m revenue in a year does not put it in the same class as fast-growing SaaS players.
Xen Server didn't rate a mention on the earnings call. A surge in patents earned by Citrix was mentioned, which may be one reason the company recently sued tiny networking outfit Avi. What chance next year's annual results add a line item for revenue from IP licences? ®