This article is more than 1 year old
Oh dear, Capita: MPs put future UK.gov outsourcing in the spotlight
Contingency plans in place at Barnet after £1bn wiped off troubled outsourcer's value
The UK government faced an urgent question in Parliament today over its reliance on troubled outsourcing firm Capita following a serious profit warning by the public sector provider – just weeks after Brit construction firm Carillion went bust.
Labour MP Rachel Reeves asked about the serious financial concerns at Capita, after £1bn was wiped off the company's value following a suspension of dividends and £700m rights issue yesterday. The firm's shares have now plunged by almost 50 per cent.
Immediately after the announcement, Barnet Council – dubbed "easyCouncil" for its extreme reliance on outsourcing (it has more than half a billion pounds worth of contracts with Capita) – put contingency plans in place to examine how it would handle the fallout should Capita fail.
Oliver Dowden, minister for implementation at the Cabinet Office, sought to reassure the house that Capita and Carillion were "not comparable" cases.
He said the measures that new chief exec Jon Lewis had put in place were purely "a balance sheet strengthening exercise," adding: "Arguably these are exactly the measures that could have prevented Carillion from getting into the difficulties it did."
Shareholders, not the taxpayer, are taking the burden, he said.
Dowden said the government met with Capita yesterday to discuss contingency plans, but declined to discuss details, citing commercial confidentiality.
"We are not in any way complacent; that is why we are continuing to engage... and I believe that is exactly what Barnet Council is doing, ensuring there are contingency plans are in place."
According to Labour MP Jon Trickett, the government let 154 contacts with Capita last year, with many of Carillon's contracts having been re-brokered with the firm just last week.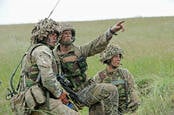 New Capita system has left British Army recruits unable to register online
READ MORE
Labour MP John Spellar noted that "Capita's incompetence is only too clear from its lamentable performance on the recruitment contract for the armed forces" - as broken by El Reg.
Dowden said more diversity was needed in the marketplace, which is why the government has committed to procure one-third of the value of contracts with SMEs.
However, he failed to mention that that target includes the indirect payment that goes to SMEs within large companies' supply chains, such as, er, Capita.
Reeves claimed there are more similarities than differences between Capita and Carillion than the minister was letting on, pointing out that both companies have debts of more than a billion pounds, pension deficits in the hundreds of millions of pounds, have paid out dividends of more than a billion pounds in the last five years, and rely on the public purse for half of their contracts.
Capita and Carillion were also audited by accountancy firm KPMG and grew through acquisition and not through organic growth, she said.
But Dowden said the measures Capita has taken have boosted its balance sheet by £1bn, and said that, unlike Carillion, it has not relied on construction contracts overseas, and is a services-based company with 92 per cent of its contracts in the UK.
He added: "A profit warning does not mean a company is going to imminently collapse.. I could name a huge list of FTSE companies that routinely issue profit warnings, [it] does not mean [they are] going to collapse."
Dowden was asked whether it was time companies contracting to the pubic sector should be subject to same transparency rules governing the public sector, rather than hiding behind the cloak of commercial confidentiality.
"Of course I do think there are lessons to be learned, and that is what the Public Accounts Committee is looking into. But there is a distinction between private companies and public bodies.. so I don't think [it's] appropriate to extend all provisions of FoI to all private companies."
He noted that Labour had been responsible for handing Carillion one-third of its contracts, with one-third being awarded by the coalition government, and another third by the current government.
"The reason we contract with these companies is because they deliver public services... and we are committed to the continued delivery of public services." ®