NASA is mostly known for exploring space, but it can also uncover wonders closer to home.
On a summer's day in 2012, fossil expert Ray Stanford was dropping off his wife Sheila, who works at NASA's Goddard Space Flight Center in Maryland, USA, when he stumbled across an odd feature stamped into exposed rock on a hillside behind a building.
After a closer examination, he found a 12-inch-wide footprint belonging to a nodosaur, a plant-eating dinosaur that once roamed the Earth during the Late Jurassic to the Late Cretaceous period.
He alerted staff members and the slab of rock measuring eight feet by three feet (2.43 meters by 0.91 meters) was found to be imprinted with nearly 70 tracks from mammals and dinosaurs. Now he has published a paper in Nature showing the tracks were made between 145 million and 66 million years ago.
Martin Lockley, co-author of the paper published in Scientific Reports and a paleontologist at the University of Colorado, Denver, said it is "the mother lode of Cretaceous mammal tracks".
"The concentration of mammal tracks on this site is orders of magnitude higher than any other site in the world. I don't think I've ever seen a slab this size, which is a couple of square meters, where you have over 70 footprints of so many different types."
There are at least footprints belonging to 26 mammals. It also includes the largest mammal track ever found from the Cretaceous period, similar in size to a raccoon's prints.
There were also smaller nodosaur marks, probably made by a baby, within the larger nodosaur prints. Other footprints include tracks from a long-necked sauropod herbivore, several from ostrich-like theropods and signs of both a Tyrannosaurus Rex and flying pterosaurs, which evidently lived alongside the mammals.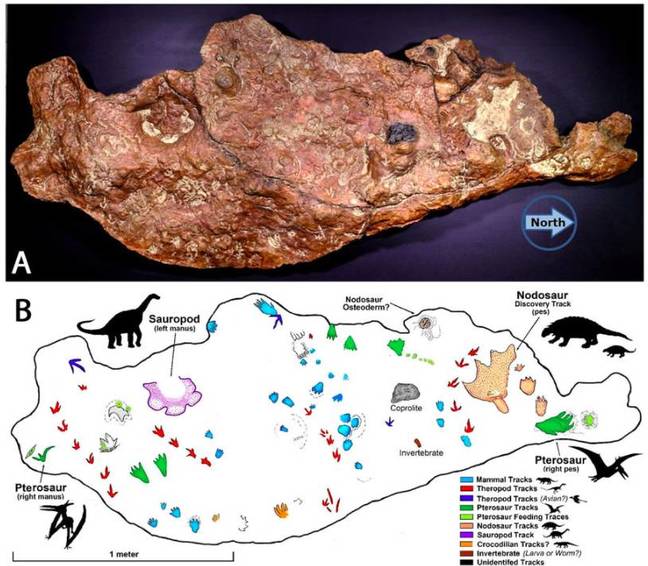 An image of the slab and footprint types. Image credit: Stanford et al.
The researchers reckon that the large number and diversity of tracks means that the space agency's grounds was once an active feeding area for both small ancient mammals and giant dinosaurs.
The mammals might have fed on worms and insects, and the smaller carnivorous dinosaurs may have been pursuing the mammals, whilst the pterosaurs and T-Rex could have been hunting them both.
"'[The fossilised rock] is a time machine," Stanford said. "We can look across a few days of activity of these animals and we can picture it. We see the interaction of how they pass in relation to each other. This enables us to look deeply into ancient times on Earth. It's just tremendously exciting." ®
Similar topics