This article is more than 1 year old
Gartner casts runes to find object storage hero and 3 emerge: IBM
Right outta the Big Blue
IBM's on-premises Cloud Object Storage has come out on top in Gartner's latest industry rankings.
Critical Capabilities for Object Storage rates 13 on-premises object storage products on eight attributes – value, storage efficiency, security and multi-tenancy, capacity, interoperability, manageability, performance, and resilience.
It then uses these values to rank the suppliers' products across five use cases – analytics, archiving, backup, content distribution, and cloud storage.
We have charted these numbers and use cases for your viewing pleasure:
Click to enlarge
Gartner doesn't provide an overall use case ranking, but we have taken its table of figures and calculated one: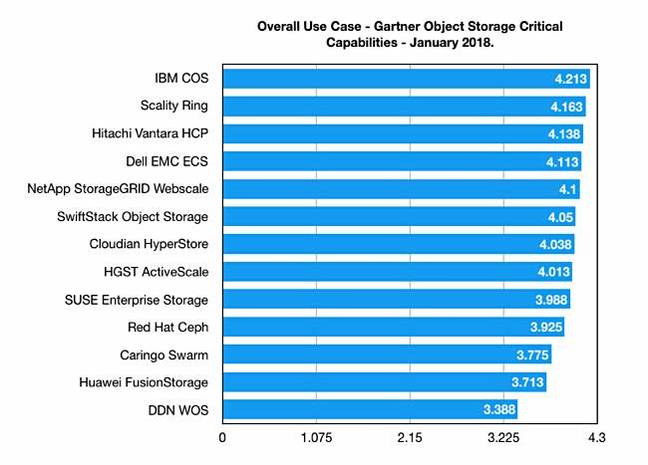 Click to enlarge
At the other end of the scale is DDN's WOS. HPE isn't mentioned but has a global OEM deal with Scality and an EMEA regional resale arrangement with Cloudian.
For comparison the April 2016 Gartner report is described here. You can register on this Hitachi Vantara website to download your own copy of the Gartner report if you're really desperate. ®