This article is more than 1 year old
India signals ban on cryptocurrencies, embraces blockchain
Doubles spending on digitisation efforts – and tariffs on electronics
Updated India has vowed to ban the use of cryptocurrencies within its borders, it appears.
News of the clampdown was delivered by finance minister Arun Jaitley in his annual budget speech (PDF) delivered on Thursday.
"The government does not consider crypto-currencies legal tender or coin and will take all measures to eliminate use of these cryptoassets in financing illegitimate activities or as part of the payment system," Jaitley said at paragraph 112 of the speech.
So, er, is that a crackdown on cryptoassets used for illegal purposes, or a crackdown on cryptoassets used for illegal purposes and legal payment systems? And what about not considering it legal tender?
The ambiguous statement has been widely interpreted as an upcoming blanket ban on digital cash, although crypto-coin investors and exchanges are holding on dear to the interpretation that India will only be going after cryptoassets used in unlawful activities.
In his speech, Jaitley added "the government will explore use of block chain technology proactively for ushering in digital economy." The minister also announced more money for the digital economy: it'll get double the funding this year at 3,073 crore (about US$500m).
All three positions are consistent with government policy.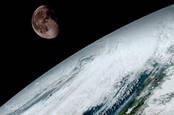 India to launch moon mission in March 2018
READ MORE
In recent years India has made two big reforms. 2016's effort was "demonetisastion" and saw large banknotes invalidated. In 2017 India introduced a single sales tax covering the nation, replacing state-based sales taxes that saw charges levied at borders between states. Both were efforts to crimp the cash economy and broadening India's tax base.
Refusing to allow cryptocurrency transactions will probably achieve the same goals, given the anonymity such instruments afford.
India is also digitising government services at speed. Jaitey also noted the utility of blockchain, as have a great many others, so the fact India hopes to put it to work is anodyne.
Another budget measure that won't surprise India-watchers is a proposal to increase customs duty on mobile phones and smart watches from 15 per cent to 20 per cent, and to double tariffs on some electronic components. Jaitey pitched those hikes as job creation measures, a clear reference to the "Make In India" that encourages global companies to bring some of their manufacturing efforts to the nation. ®