This article is more than 1 year old
Lauri Love judgment: Extradition would be 'oppressive' and breach forum bar
Brit, US prosecutors aren't out of options yet
Analysis Accused hacker Lauri Love will not be extradited from the UK to America to stand trial on accusations that he hacked into a number of American government agencies, the High Court ruled this morning.
In their full judgment, the Lord Chief Justice, Lord Burnett of Maldon, and Mr Justice Duncan Ouseley, sitting as the Administrative Court division of the High Court in England, upheld Love's appeal against District Judge Nina Tempia's 2016 order that effectively extradited him to America.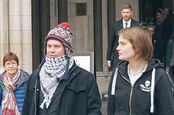 Accused Brit hacker Lauri Love will NOT be extradited to America
READ MORE
District Judge Tempia's order sent the decision on Love's fate to the then UK Home Secretary, Theresa May, now prime minister, who insisted the Brit bloke should have been sent abroad.
Love was indicted in three separate American federal district courts, effectively giving prosecutors three attempts to find him guilty. District Judge Tempia ruled there was nothing "unlawful or improper" in extraditing Love to America after accepting that these were, legally, three separate jurisdictions.
Love is accused of breaking into US government agencies including the:
Federal Reserve
Army
Department of Defense
Missile Defense Agency
NASA
US Army Corps of Engineers
Department of Health and Human Services
Sentencing Commission
FBI Regional Computer Forensics Laboratory
Department of Energy
Love was also alleged to have hacked into two private firms, Deltek and Forte Interactive.
"Mr Fitzgerald QC for Mr Love was at pains to emphasise that Mr Love did not seek impunity for the acts alleged against him, but contended that he should be tried and, if convicted, sentenced in the United Kingdom," said the judges today in their written ruling.
Love's two main grounds of appeal were that a UK law known as the "forum bar" legally prevented his extradition, on the basis that his alleged crimes were committed while he was in the UK, and that sending him into the American justice system would put him at an elevated risk of suicide because of his diagnosed Asperger's syndrome. Both grounds were successful in today's judgment.
The forum bar
The forum bar was introduced after the Gary McKinnon case in the 2000s, when a British hacker with Asperger's was accused of hacking into various US government agencies. Formally known as section 83A of the Extradition Act 2003, the forum bar sets out seven tests that judges must consider when deciding whether to extradite someone abroad to stand trial outside the UK.
Peter Caldwell QC of Drystone Chambers, the UK Crown Prosecution Service barrister appearing for the US government, argued in court in November that the forum bar should not have been applied to Love because the harm he was said to have caused was in America, and therefore he should answer for that to the US justice system.
In response, Love's barrister, Edward Fitzgerald QC of Doughty Street Chambers, argued that Love's connections to the UK – which is one of the seven forum bar tests for judges to consider – should mean he ought not to be sent to America. Love, a native of Stradishall, Suffolk, was raised in the UK, though he also holds dual Finnish citizenship through his mother.
The High Court ruled: "By itself, the fact that he is a British national, long resident here, with a girlfriend, and engaged in studies, would not have persuaded us that the decision was wrong. But there is a particular strength in the connection to his family and home circumstances provided by the nature of his medical conditions and the care and treatment they need."
The Lord Chief Justice and Mr Justice Ouseley added in their judgment: "We do not accept the submission that the connections make an overwhelming case, regardless of whether the other factors could not tell in favour of extradition. But they, with the other factors which we consider should have told against extradition, outweigh those factors favouring extradition sufficiently clearly to persuade us that the judge was wrong on this question."
Health and oppression
The High Court also ruled that Love's appeal against extradition on the grounds that it would be "oppressive" succeeded, on the basis that his Asperger's syndrome, combined with his other health difficulties, would leave him either suicidal or medically unfit to enter a plea in American court proceedings.
Caldwell, unsurprisingly, had argued in November that District Judge Tempia's original conclusion – namely, that Love was not at an unreasonable risk of committing suicide or becoming unfit to plead – was sound and should be upheld by the Administrative Court.
For his part, Fitzgerald, on behalf of Love, previously told the court: "On a pragmatic level, the very fact of being taken away from England exposes him to a high risk of suicide. If he's dead, putting it bluntly, no victims are going to get anything from a trial. If he's severely unfit, again, they won't get any benefit from a trial."
The Reverend Alexander Love, Lauri's father, told the court in a witness statement that his son "has told me very clearly that he would kill himself if there was an Order for Extradition. I genuinely believe he means it. It is not a threat; it is a statement of fact which I believe."
A psychiatrist, Professor Baron-Cohen of Cambridge University, prepared a report on Love that was read by the judges. The professor was the first professional to diagnose Love's Asperger's syndrome. The professor described Love's condition as "a very severe disability", which the court ruled caused him "to become so absorbed in his interest that he neglects other areas of life, including his health, to the point that he becomes physically unwell".
The High Court also considered the American justice system's ability to, in effect, keep Love alive. It ruled that the Federal Bureau of Prisons' "protocols for supporting those with Asperger syndrome did not address the complexity of the problems", adding that the US system presented "a real risk... [that its] suicide prevention programme would not be adequate to prevent suicide by someone with Mr Love's intellect and who had declared his suicidal intent so clearly as Mr Love had".
In their full judgment [PDF, 35 pages], the Lord Chief Justice and Mr Justice Ouseley came to the conclusion that "Mr Love's extradition would be oppressive by reason of his physical and mental condition", on the grounds that District Judge Tempia had not considered whether anti-suicide measures would, in themselves, have a "seriously adverse effect on his very vulnerable and unstable mental and physical wellbeing."
Jubilation
In a press conference after the ruling was handed down, the Reverend Love said: "Obviously this is a victory for justice and it's a great help to us as a family." He added: "At the core of our nation, there's a consensus of agreement about the things that really matter, about decency, justice and fairness. To be born on these islands is to win the lottery of life."
Love's girlfriend Sylvia Mann said: "It hasn't really sunk in yet."
Love himself thanked his legal team and Barry Sheerman MP, who, as well as campaigning for greater recognition of autism-related matters in Parliament, has also been supporting the campaign to have Love tried in Blighty.
Love said: "I'm greatly relieved that I'm no longer facing the prospect of being locked up for the rest of my life in a country I've never visited. But I'm also thankful for the precedent that has hopefully been set by this case. For myself, this legal struggle has kind of defined my life for the last four years and it's good it's come to this just conclusion."
In a brief interview with The Register afterwards, Love, 33, said he was looking forward to resuming his electrical engineering studies at Suffolk University and to expanding his cybersecurity consultancy work. He also thanked El Reg and its readers for their interest in his case.
The Crown Prosecution Service, which has been acting on behalf of the US government throughout the British proceedings against Love, told The Guardian it would read the judgment before considering whether to appeal against today's ruling. It has 14 days, starting today, to file an appeal to the Supreme Court.
The CPS may also decide to restart its own prosecution of Love in the UK under English law – specifically, the Computer Misuse Act. ®