No, Windows 10 hasn't beaten Windows 7's market share. Not for sure, anyway
OS-detection services disagree on which Windows reigns
Web analytics outfit StatCounter last week trumpeted news that Windows 10's market share overtook Windows 7's for the first time in January 2018. But other ratings services didn't find the same result.
StatCounter's assessment of Windows version market share for January 2018 suggested that Windows 10 scored 42.78 per cent of Windows' market share, as measured by worldwide internet. That compared to 41.86 per cent for Windows 7.
Here's a pretty graph showing the trend.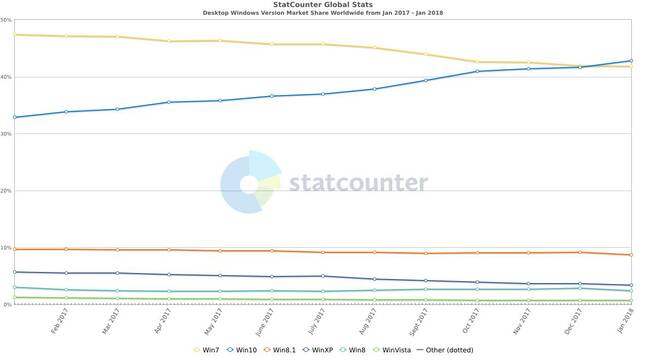 StatCounter's trend lines for Windows version market share. Click here to embiggen
Before you figure out how to start selling champagne to Microsoft offices, consider that StatCounter has a rival named Netmarketshare and that its January 2018 data has Windows 10 on 34.29 per cent market share, well behind Windows 7's 42.39 per cent.
Both sites compile their data by watching traffic to real live websites. Netmarketshare says that it considers "100 million valid sessions per month, widely distributed over thousands of websites." StatCounter says its methodology sees it work "on the basis of more than 10 billion page views per month, by people from all over the world onto our 2 million+ member sites."
Which is more accurate? That's hard to say as both are ultimately black boxes.
What we can say with some certainty is that if StatCounter is right, Microsoft has taken two-and-a-half years since Windows 10's July 2015 launch to beat a product launched in July 2009.
Perhaps that champagne business wasn't such a good idea after all. ®