2017 tablet market trended towards torpor
Amazon and Huawei did okay, but overall shipments dipped between six and twelve per cent
---
The tablet computer market took a steep dip in 2017 according to analyst firms IDC and Strategy Analytics.
The former firm found sales down 6.5 per cent to 163.5 million, compared to 2016's 174.9m. Strategy Analytics had a higher number for units shipped – 185m – but a sharper annual dip of nine per cent.
Both analysts found moderate dips for Samsung and Lenovo, plus nasty slides for off-brand tablets.
Apple picked up a point or two of market share and a million or two extra sales. Amazon* was the only big winner, with IDC finding it increased market share by 38 per cent over the year to ship 16.7m units. Huawei grew 28 per cent and shipped 12.5m devices. Both remain way behind Apple and Samsung, who racked up 43.8m and 24.9m sales respectively.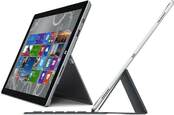 Off-brand tablets look done, but big players are growing
READ MORE
The firms diverge on their analysis of the detachable device market. IDC has their market share growing. Strategy Analytics said "too many Windows 2-in-1s are aimed at the crowded enterprise and prosumer market" and blamed that for a one per cent dip in sales. The firm held out hope that "the coming wave of ARM-based, always connected Windows 2-in-1s and rumored Chrome-based 2-in-1s could help turn this trend around."
Microsoft certainly has high hopes for its efforts, not least because they'll be sold through telcos with a data plan and offer battery life said to be an order of magnitude beyond that of current tablets. Perhaps that will be enough to give this category of kit a jolt. ®
*Your correspondent purchased a Kindle Fire 7 at a pre-Christmas discounted price of US$30. It's underpowered, but not entirely unpleasant, fine for streaming Netflix and strangely laggy when running the Kindle app. I cannot imagine it being used for serious email, social media viewing or daily browsing.