This article is more than 1 year old
Dell goes on Epyc server journey with AMD
Rackmount server competition for PowerEdge 14G Xeon SP rackers
Dell is producing one- and two-socket rackmount servers using AMD Epyc processors alongside its Xeon SP server family.
The Epyc processor is said to be faster than equivalent Xeons.
There are three PowerEdge AMD-powered servers: the R6415, R7415, and R7425. These accompany the PowerEdge 14G R640 and R740 Xeon SP servers in the Round Rock company's server portfolio, and they inherit general PowerEdge management and feature goodness.
As context, the Xeon-powered R640 is a 1U, two-socket system while the R740 is a 2U, two-socket one.
R6415
The R6415 (tech specs PDF here) is pitched as an edge computing server and is a 1U system supporting one AMD Naples socket SP3 compatible processor with up to 32 cores. It has 8 x 2.5-inch SAS or SATA drives, or 4 x 3.5-inch ones, or 10 x 2.5-inch NVMe (SSD) drives. These latter drives are not hot-swappable, as is true with the R7415 and R7425 servers.
According to the reference guide, it can have up to 1TB of DRAM with a single processor. A slide we have seen says it can have 2TB: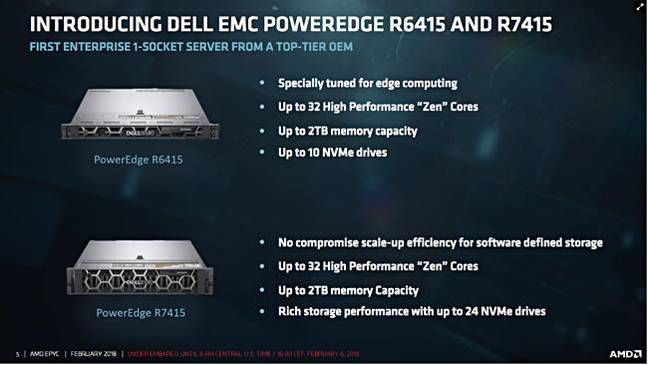 Click to enlarge
We have asked Dell which number is the correct one.
R7415
The R7415 (tech specs PDF here) is a mid-range single-socket server. It's a 2U system supporting one AMD Naples socket SP3 compatible processor. The box can hold 8 x 3.5-inch, 12 x 3.5-inch, 12 x 3.5-inch + 2 x 3.5-inch (rear), or 24 x 2.5-inch SAS, SATA, or NVMe drives (up to 12 SAS/SATA/NVMe + 12 NVMe drives.)
Memory tops out at 1TB again (as per tech specs) or 2TB (slide deck), and Dell has been asked for clarification.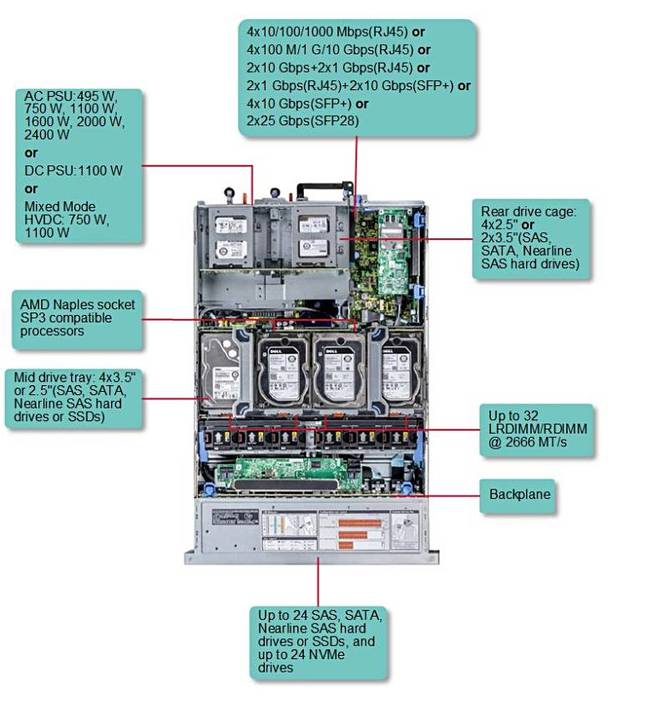 Dell R7425 schematic. Click to enlarge.
R7425
This system is pitched at high-performance computing workloads. It's a 2U, 2-socket R7425 (ref PDF guide here) can have a pair of Epyc CPUs, up to 32 x SAS, SATA, or nearline SAS hard drives or SSDs, and up to 24 NVMe flash drives. This is the big box of the three, with a maximum of 4TB of memory.
Performance
Dell quotes AMD numbers comparing Epyc to Xeon Skylake systems at equivalent cost points: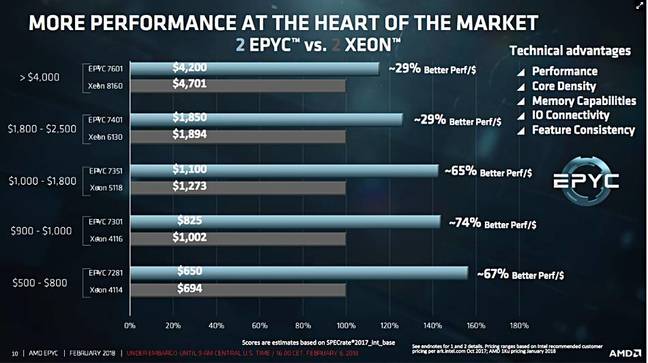 Click slide to enlarge it.
The numbers show Epyc processor systems delivering better price-performance than Skylake ones.
HPE on Epyc trail too
Dell competitor HPE produced a Gen 10 DL385 server using 1 or 2 Epyc CPUs in November last year. That meant 32 or 64 cores and a maximum 4TB of memory.
At the time HPE said an Epyc dual-CPU 7601-based DL385 system scored 257 on SPECrate2017_fp_base (throughput) and 1980 on the SPECfp_rate2006, both higher than any other two-socket system score then published by SPEC.
A Xeon DL380 with dual Xeon Gold 6152 22-core CPUs scored 197 on the SPECrate2017_fp_base in comparison.
Presumably the Dell Epycs will do likewise compared to the equivalent Xeon ones.
Prices: The R6415 starts at $2,179.00, the R7415 at at $2,349.00, and the R7425 at at $3,819.00. Systems are available and shipping worldwide. ®