This article is more than 1 year old
Lenovo literally has a screw loose – so it's recalled flagship Carbon X1 ThinkPads
Part may be rattling inside 5th-gen machines, can cause fires
Lenovo has recalled its flagship Thinkpad X1 Carbon laptops because some may literally have a screw loose.
As detailed in an advisory this week, fifth-generation X1's "may have an unfastened screw that could damage the laptop's battery causing overheating, potentially posing a fire hazard."
"Lenovo's investigation and analysis determined that an unfastened, small screw, left in the unit during manufacture, could damage the surface of the lithium ion polymer battery and cause a short, leading to rapid cell discharge of the battery," the manufacturing giant admitted.
Three such incidents have been reported to Lenovo, none of which ended in a blaze.
Lenovo's surely aware that Samsung's reputation was torched by the bonfire of the Galaxies (or at least the Note 7). It's therefore issued advice to "immediately stop using the affected laptop PC and contact Lenovo Services or an authorized Warranty Services Provider to schedule an appointment to have their systems inspected for an unfastened screw."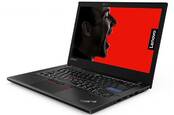 Lenovo spits out retro ThinkPads for iconic laptop's 25th birthday
READ MORE
The PC slinger also erected an impressive page offering details on who to call, and where to get service. Those lists are linked to from the advisory, which also offers extensive advice and a tool to help owners determine if their lappie has the problem.
The advisory states that only machine types 20HQ, 20HR, 20K3 and 20K4 have the problem. Such computers were manufactured between December 2016 and October 2017.
If Lenovo has to replace your laptop, that may not be a bad thing: when The Register tested last year's X1 we found it disappointing in many ways. ®