Microsoft appears to have edged Skype for Business closer to the edge of a cliff.
Redmond's latest Skype for Business roadmap landed late last week [PDF] to not much fanfare, and it's nudging users to start plotting their migration to "Teams", Redmond's tied-to-Office replacement for Skype.
As we wrote last year, Skype for Business was never really Skype: Microsoft slapped the Skype brand onto a business video client and server so it could kill off the Lync and Office Communicator brands.
In September 2017, Microsoft told its Ignite conference the next to go would be Skype for Business, to be replaced by Teams. Redmond's still not said when the replacement will be finalised, but the new roadmap makes it plain that Skype for Business users need to start thinking about a move with the following verbiage:
Plan your transition to Teams
Engage your account team, FastTrack, and partners for guidance and support along the journey
The roadmap also promises a bunch of new features in Teams. This quarter it'll get contact groups, unified presence across Skype for Business and Teams, federated chat between the two environments, the ability to import contacts to Teams and full interoperability between the two.
The document also outlines enhancements to Teams' meetings and calling capabilities.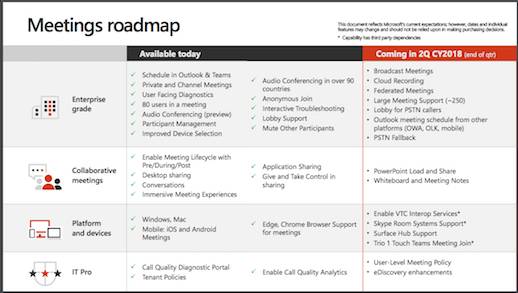 Click to embiggen the Meetings roadmap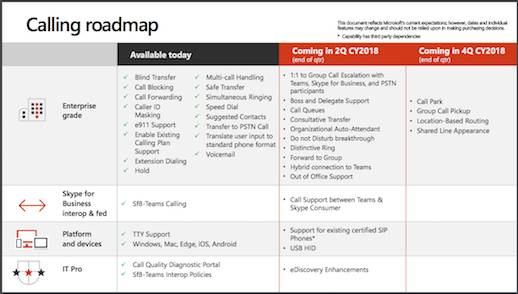 Click to embiggen Microsoft's calling roadmap
While Teams catches up, Microsoft reckons the best thing is to run it and Skype for Business side-by-side - because everybody loves administering two tools that do the same thing. ®