It turns out bullshitting your way to fame and fortune is illegal in California's playground of tech startups, rather than a viable business model. Who knew?
The former CEO and founder of defunct Silicon Valley upstart WrkRiot has pleaded guilty to defrauding and lying to his firm's former employees.
Isaac Choi, 36, on Monday accepted government charges of wire fraud in Northern District of California in Santa Clara, California, before US District Judge Edward J. Davila.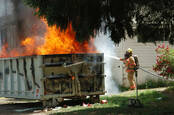 Oh no, Silicon Valley! Failed startup CEO on fraud rap after allegedly bullsh*ting staff and refusing to pay them
READ MORE
Choi, recently a resident of Orange County, California, and previously of Santa Clara, is scheduled to be sentenced on May 24. Also known as Yi Suk Choi, Yisuk Choi, Yi Suk Chae and Isaac Chae, he faces a maximum penalty of 20 years in prison.
As part of his guilty plea, Choi acknowledged making false statements about his educational background, his professional achievements and his financial assets in an effort to recruit and retain employees.
According to Uncle Sam's prosecutors, he admitted that he hadn't attended business school, had never been employed by a financial company, and inflated his net worth.
He also admitted to having emailed several employees fake wire transfer notices in an effort to convince them they had been paid and to remain with the struggling company.
Problems with the aspiring job-matching biz surfaced on August 28, 2016, when its former head of marketing, Penny Kim, published a blog post about her experience at an unnamed startup in which she alleged that she had not been paid and had been presented with fake wire transfer confirmations.
Kim's account received support the following day in a Hacker News post by WrkRiot's former chief technology officer Al Brown (referred to in Kim's post by the pseudonym "Charlie.")
That same day, company advisor Daniel Tunkelang identified WrkRiot as the outfit being discussed and disassociated himself with the biz.
WrkRiot briefly posted a legal threat alleging slander by unnamed former employees on its now vanished Facebook page.
In June 2017, following an FBI investigation, Choi was charged with wire fraud. ®