Tension
It is a story playing out across America right now: communities are frustrated at the low speed and high cost of their internet connections, and blame their ISPs – many of which possess virtual monopolies – for it.
Those ISPs feel justified in their offerings, however, due to the significant financial and time resources required to build a physical network. Those companies had factored in effective control of a market in their decisions to invest and expand into various regions.
And then along came city councils that decided to invest in their own networks, using taxpayers' dollars, with a view that internet access is a public utility along the same lines as water or electricity.
In some cases, municipal networks have revealed that when profit incentive and market control are taken out of the equation, it is possible to get much faster internet access to consumers at a much lower price. However, there have also been stumbles, with some city councils spending tens of millions of dollars on a network that it is then in no position to administer.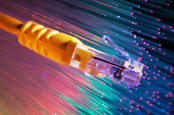 Funnily enough, small-town broadband cheaper than big cable packages, say Harvard eggheads
READ MORE
From the outside, it looks as though West Plains sits in the first category, thanks in no short measure to Stehn's conservative approach. Fidelity Communications noted that the city has spend $413,000 so far on its network, with revenue of just $6,000. It is budgeted to spend another $618,000 this financial year on the network.
But, Fidelity pointed out, the city is in deficit so far this year by $1.3m. The implication is that West Plain's fiber expansion plans could put the city further into the red while effectively making it impossible for others to compete. "Under the guise of promoting local business, the city seems intent on pushing us out of town," the Fidelity letter complained.
It went on: "The city has taken these actions with only limited input from its residents, and certainly without a vote of the public. The city has no published business plan explaining how it will fund what will be the millions of dollars it will spend."
Well, sort of
Which is only partly true. The decision to build the network was done following a public consultation, and Stehn has been upfront about both the costs of the network and his concerns related to it.
He has spoken repeatedly to journalists about the idea, and has been open about how it is being financed: "We're kind of borrowing from the electric department, and then as we add customers and all that, we're going to try to pay that back as much as we can," he told a local radio station.
He has also outlined the costs of the project as it has progressed, and noted when a public vote would be forthcoming. "Our estimate right now if we would fund the whole thing is $15m," he said, "which would include the residential and commercial service. We probably would be looking at some type of bonding in some fashion, either fully or partially. This would have to go to the vote of the people for the City of West Plains, but those are things we're still trying to work out as we test pilot our system."
Faced with what looks like a determined and organized plan to use taxpayers' money to build out a fiber network, it's hardly surprising that Fidelity Communications is not excited about the prospect of losing its client base in a profitable market.
But was secretly funding an attack campaign against the idea the right approach? It seems unlikely. Just because astroturf campaigns have become an increasingly common tactic by large corporations doesn't mean they're a good idea. And if Fidelity is reliant on local goodwill to build its business, this was a serious error of judgment.
Its letter ended: "It is our sincere hope to work with the city, its businesses and residents to continue to provide superior services within West Plains." Good luck with that, Fidelity. ®
Similar topics