This article is more than 1 year old
Monday: Intel defector touts Arm server chip. Wednesday: Intel shows off new server chips
Xeon D-2100 a coincidence, Chipzilla assures us
Intel will today add the D-2100 x86-64 system-on-chip to its lineup of Xeon D x86-64 processors, billing it as its "fastest low-power edge processor."
The Xeon D CPU family is aimed at powering web servers, high-speed cellular broadband towers, regional and branch office systems, warm file storage in the cloud, data center edge boxes, pretty much anything you're building at a dense hyper-scale, and so on. Facebook uses them in its army of web servers, for instance.
The Xeon D is Intel's answer to the lurking menace of low-power, good-performance 64-bit Arm-compatible data-center-grade system-on-chips like Qualcomm's Centriq family. When you need a decent amount of bang for a reasonable number of bucks, without drawing a huge amount of power, Intel will give you the D.
A catalog of available Xeon D parts is here. The family sports up to 16 cores. By the time you read this, the D-2100 should be listed, or about to be, taking that number up to 18.
Specs
The single-socket 14nm Xeon D-2100 will come in 14 SKUs, with up to 18 cores and 36 hardware threads clocked at up to 2.8GHz or 3GHz with turbo boost, 512GB DDR4 ECC RAM support at 2666MHz, 32 PCIe 3.0 lanes, AVX-512 vector math acceleration, up to 100Gbps Quickassist cryptography acceleration, SATA and USB interfaces, 20 I/O lanes, and up to four 10GbE integrated, all running within 110W TDP or lower.
It also sports Intel's mesh architecture as seen in other Xeons, and described here. The 2100 uses the Skylake microarchitecture, so yes, it suffers from Meltdown and Spectre, and yes, it has Intel's Management Engine version 11.
The 14 SKUs will be divided into Edge Server and Cloud, Network Edge and Storage, and QuickAssist flavors. Early customers include the likes of NetApp, Ericsson, Palo Alto Networks, NEC, and SuperMicro, we're told. Here's Intel's summary of the chip series: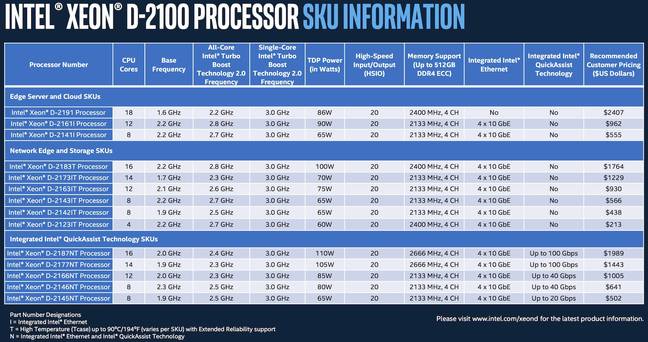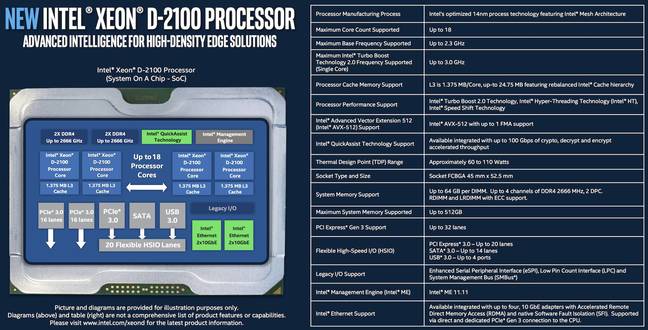 Features and SKUs chart ... Click to enlarge either (Source: Intel)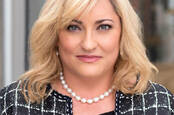 Intel 80386 queen Renée James quits as chipmaker's president
READ MORE
The D-2100 will be announced in the same week former Intel president Renée James resurfaced as the head of Ampere, an upstart promising to deliver, by mid-2018, low-power, decent-performance Arm server processor chips... that are reheated Applied Micro X-Gene 3 designs. These Ampere chips will, we're told, sport 32 64-bit Armv8 CPU cores running at up to 3.3GHz within 125W.
Also this week, Dell touted machines powered by Intel rival AMD's Epyc server CPUs, which sport up to 32 cores clocked at up to 3.6GHz while consuming up to 180W. Qualcomm's Centriq system-on-chip family, for what it's worth, sports up to 48 cores peaking at up to 2.6GHz, with a max power draw of 120W.
It should go without saying that hardware specs alone are not enough – price is a major factor, too. The latest Xeon Ds, for instance, top out at $2,400 a pop, much more than what Qualy will ask for a Centriq 2400 part.
Timing
Did Intel decide to pull the covers from its D-2100 today in the wake of Ampere, Epyc and Centriq advancements? "Our Xeon D processor disclosure is not in response to recent server processors that have been announced," a Chipzilla spokesperson told us late on Tuesday.
We'll let readers decide. The D-2100 family certainly looks like a response to Epyc and Centriq. You can't conjure a new chip out of thin air, though, so it's likely the D-2100 was waiting in the wings for a while, and scheduled to go public this week. You may think Intel hastily pulled its announcement forward in time to today in response to the competition grabbing headlines, but the chipmaker denies this.
Perhaps Dell and Ampere went public with their news earlier this week after being tipped off that Intel would announce a Xeon D update on Wednesday, in hopes of spoiling the 2100's big splash. Welcome to the cutthroat world of semiconductors.
Regardless, Intel supplies more than 90 per cent of the world's data center compute processors, according to analyst estimates, a monopoly it is not going to budge an inch on.
For more analysis of the D-2100, check out our sister site, The Next Platform. ®