This article is more than 1 year old
I see you're writing a résumé?!.. LinkedIn parked in MS Word
It's so unreal, didn't look out below. Watch the time go right out the Windows
Microsoft has glued LinkedIn and Office 365's Word together so it can automatically help folks write or update their résumés – and find them new jobs at the same time.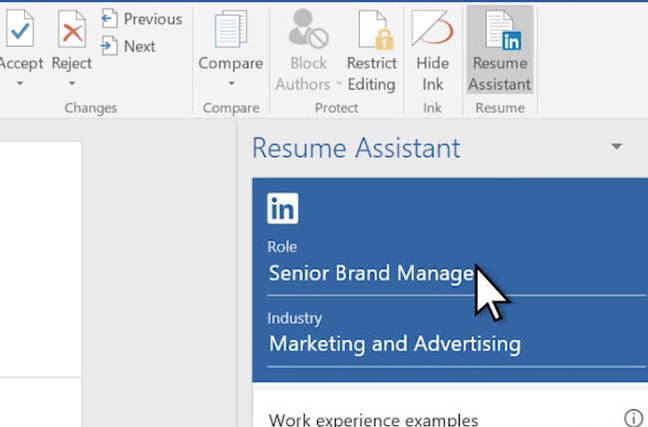 Given Redmond has owned social-network-for-suits LinkedIn since 2016, we're floored it took this long.
Specifically, Microsoft said today that Word and LinkedIn's search functions will be integrated so people who are updating their curricula vitae will get recommendations on other roles they may be interested in. The software will also help them write or tweak their work histories and skills lists.
Dubbed Resume Assistant, the new feature will, of course, require users to have both Office 365 and LinkedIn accounts, and it is limited to the English language.
The assistant will need to be activated through the "Review" screen in Word, so there's no surprise Clippy-style "I see you're writing a..." dialog popup. You have to turn it on yourself. Microsoft also said admins will be able to turn off the feature through Azure Active Directory.
In addition to suggesting possible jobs, Microsoft said its Resume Assistant will offer improvements to users' résumés by looking at the LinkedIn profiles of those with similar job titles and examining how they describe themselves and their positions.
This is where Microsoft says its AI projects come into play. Redmond said Resume Assistant uses machine-learning algorithms to generate its job recommendations and writing suggestions. This code was trained using knowledge combed from millions of LinkedIn accounts. The result is a tool that has been taught which words work best on CVs, and it uses this information to (hopefully) predict changes that will land netizens better jobs.
It may also explain why Microsoft saw fit to shell out $25.4bn for LinkedIn roughly three years ago – those profile pages provide a great source of training data for AI models when developing new features.
"With over 15 million job applications being submitted on LinkedIn every week, finding the right way to represent your unique experience is important," gushed LinkedIn senior product manager Kylan Nieh.
"By regularly updating your resume, you'll already be one step ahead when the time comes to find your next role."
Microsoft has been testing the tool since November with Office users on Windows Insider builds. Today's update makes the tool available to Office 365 subscribers who have set their home region as the US, Canada, Australia, Brazil, China, India, Japan, New Zealand, South Africa, or Singapore. Yes, no love for UK or Europe. Er, thanks GDPR? ®