This article is more than 1 year old
Micron cranks revenue forecast up by $275m amid flash, DRAM boom
Welcomes new CFO too
It's boom time in Micron flash and DRAM land with increased revenue expectations for the current quarter. And it has hired a new CFO.
The guidance for Micron's second fiscal 2018 quarter, which ends March 1, is now for revenues between $7.2bn and $7.35bn. The earlier expectation was $6.8bn to $7.2bn. This is a $275m rise at the midpoint, which could be attributed to the great pricing environment for flash and DRAM – from a supplier's point of view.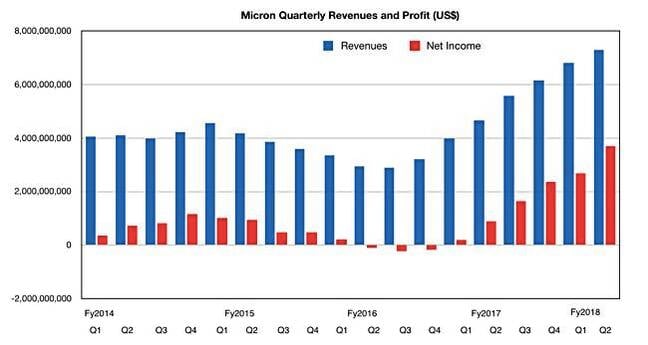 Revenues and GAAP net income to (preliminary) Q2 FY 2018. It's our guesstimated net income for the quarter
This is revenue and net income to die for with substantial year-on-year quarterly growth for the last seven. We'll get the full Q2 numbers on or about March 22.
Micron – headquartered in Boise, Idaho – has also hired a new CFO, David Zisner, president and COO at Affirmed Networks. Before that he was SVP and CFO for eight years at Analog Devices.
The current finance boss, Ernie Maddock, is retiring at the relatively young age of 60.
President and CEO Sanjay Mehrotra said: "On behalf of the company, I want to thank Ernie for his significant contributions to Micron. He has helped position the company for continued strong growth, and we wish him the best in his future endeavors."
Why, as Micron's FAQ on the changes put it, is Maddock getting out when Micron is doing so well?
Ernie Maddock has made significant contributions to Micron during his tenure and has helped position the company for continued strong growth. He has decided that it is a good time to retire but has agreed to stay as an advisor until early June 2018 to ensure a seamless and effective transition.
On the new hire, the company said: "David Zinsner is the right choice for Micron's CFO because, among other things, he is a strong executive leader, has significant experience in the semiconductor industry, has served as CFO at companies with fab, assembly and test operations, has experience with high-value product lines, and has a demonstrated track record of generating shareholder value."
Zisner joins a list of executive hires by Mehrotra:
Jeff VerHeul as SVP of Non-Volatile Engineering
Anand Jayapalan as storage business unit head, replaced by Derek Dicker
Sumit Sadana was hired as EVP and chief business officer
Manish Bhatia became Micron's EVP of global operations
Demand for flash and DRAM has benefitted all the foundry operators – Micron (and Intel), Samsung, SK Hynix, Toshiba and WDC. Mehrotra has inherited this, giving him a comparatively easy ride revenue-wise at Micron.
The real test for his exec team will come when demand wanes. Then we'll see if they have what it takes. ®