This article is more than 1 year old
Now that's taking the p... Sewage plant 'hacked' to craft crypto-coins
Mining Monero on SCADA networks? Why can't you kids be normal and just DDoS
Updated Infosec bods say they have uncovered what's thought to be the first case of a major industrial control system network infected with cryptocurrency-mining malware.
SCADA security outfit Radiflow claimed today it found the software nasty lurking in computer systems at a water treatment facility. Several operational servers used to monitor and regulate critical water supplies were found to have been infected with code that secretly harvested Monero cyber-dosh and sent the coins over the internet to its masterminds, we're told.
The malicious software was, we're told, chewing up processor time, noisily shifting data over the network, and potentially exploiting the fact that industrial networks tend not to be running the latest security patches – typically because they oversee critical processes that cannot be interrupted or knocked out by bad updates.
In short, it's not particular great to see malicious code running that near important systems. Luckily, it was just mining Monero rather than anything more sinister.
"Cryptocurrency malware attacks involve extremely high CPU processing and network bandwidth consumption, which can threaten the stability and availability of the physical processes of a critical infrastructure operator," said Yehonatan Kfir, chief tech officer at Radiflow.
"PCs in an OT [operational technology] network run sensitive HMI [human-machine interface] and SCADA [supervisory control and data acquisition] applications that cannot get the latest Windows, antivirus and other important updates and will always be vulnerable to malware attacks."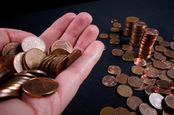 More and more websites are mining crypto-coins in your browser to pay their bills, line pockets
READ MORE
The malware family caught on the water utility's equipment wasn't named, and it sounds relatively sophisticated – more than a JavaScript miner running on a webpage on someone's laptop. It used obfuscation techniques, we're told, such as shutting down any installed antivirus tools, and was designed to be stealthy to maximize its moneymaking before it could be discovered.
The software nasty was apparently spotted thanks to researchers noticing unusual spikes in HTTP connections to the outside world from the infiltrated hardware, and the computers trying to send data to servers already identified as malware command-and-control machines. The hidden miners have since been removed from the sewage plant's systems, it is claimed.
Currency mining infections are fast becoming the preferred method for online scumbags to make a fast buck. Even ransomware is losing ground to mining infections, thanks in part to people keeping better backups and antivirus tools becoming more effective at blocking extortionware.
There's no word on how the malware got onto the SCADA network in the first place. It was either placed there by a rogue employee, via an open hardware port, or possibly through a network service left open by a careless admin.
We've pinged Radiflow, based in New Jersey, USA, for more information – we'll let you know if they get back to us. ®
Updated to add
While the cause of the infection is still being investigated, Ilan Barda, Radiflow's CEO, told The Register today the malware was probably installed after someone used a browser on a server to visit a website they shouldn't have. The nasty would have been accidentally downloaded and run, and it likely exploited network file shares to move through the utility company's computers, we're told. It sounds a lot like a variant of Adylkuzz.
The plant has not been named due to customer confidentiality agreements.
"What we see is that it got into one of the servers, and moved across to others using SMB vulnerabilities," he explained.
"The main problem with systems like this is that they aren't usually properly patched or running security software, so once you get in it's usually easy to infect other computers on the network."
The mining software, derived from Coinhive's code as usual, was running infected servers' CPUs at very high rates, apparently, and presumably reaping a lot of currency. A standard PC running Coinhive can typically pull in around 25 cents per day, but servers are more powerful and can churn out more crypto-cash.
Thankfully, in this case the mining code doesn't seem to have affected normal operations at the plant. Radiflow is now working with regulators to lock down the infected network and check for other malware in connected systems.