Game of Thrones fans hoping that showrunners David Benioff and D.B. Weiss might spend more time in Westeros will have to visit a galaxy far, far away instead after Disney signed the pair for a series of Star Wars flicks.
Details are scarce: Disney's only said the pair will "write and produce" a "series" of indeterminate length with no screen date.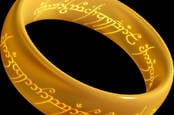 Amazon to make multiple Lord of the Rings prequel TV series
READ MORE
We have been told that "These new films will be separate from both the episodic Skywalker saga and the recently announced trilogy being developed by Rian Johnson, writer-director of Star Wars: The Last Jedi."
Weiss and Benioff's canned quote has them saying they plan "to get started as soon as the final season of Game of Thrones is complete." So some time in 2019 then, which means that after rewrites, casting, the usual Hollywood run-arounds and whatever internet-induced existential crises threaten the movie industry in coming years, perhaps one of the series might make it onto the silver screen in the early 2020s.
Game of Thrones is vastly more sweary, bloody and sexy than anything yet seen in the Star Wars universe. If Benioff and Weiss bring those traits to the Lucasverse, here's hoping they inflict them on Ewoks. Ok, maybe not the sexiness. ®
Bootnote: SF author and occasional Reg admirer Charles Stross this week published an interesting piece that, among other things, explains why Star Wars' space battles sequences look like World War One dogfights. It's worth a read.